By modifying an L-shaped sofa, you may increase comfort, maximise functionality, and produce a pleasing atmosphere.
Customising Your L-Shaped Sofa: Tips and Tricks for a Perfect Fit
A living room is a vital part of your home where memories are made and relaxing times are treasured. At the heart of it all is your L-shaped sofa, which has become an important component in contemporary interior design, providing both practicality and visual appeal. How about bringing this essential piece of furniture to the next level? Wouldn't it be great if you could customise it to suit your space, needs, and style?
Join us as we bring you on a journey to discover the tips and tricks for customising your L-shaped sofa so that it becomes an opportunity for self-expression. From determining the function of the sofa to selecting the right measurements and configurations, we leave no stone unturned in our goal to help you achieve the ultimate comfort and style.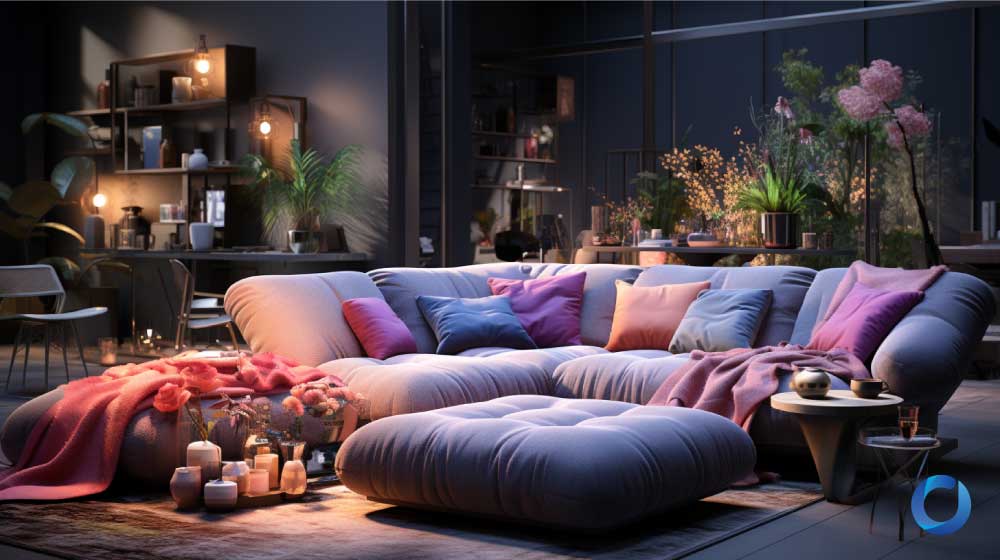 Plan How You Use the Space
When assessing how your living room will be used, figure out the type of activities that will take place in the area, along with the way you'd prefer it to work. Do you want it to be used for entertaining guests? Are you thinking of spending time watching TV with your family? Or perhaps you consider using it as a space to relax and unwind?
If you are planning to use your living room as a place to host visitors, determine the number of people you normally host at one time and the types of gathering you have. This will assist you in estimating the seating and layout requirements. If you don't have a dedicated bedroom for guests, but you still want to accommodate the guests to sleepover at your house, perhaps the better option for you is the corner sofa bed. This sofa bed has a built-in sleeping area and still offers a large seating area when the bed is folded away. Numerous corner sofa beds include fold-out sleeping areas that align with the L-shape of the sofa bed. As a result, sleepers may find this sofa bed even more comfortable than conventional sofa beds because it offers more space to stretch out.
Furthermore, if your living room is a place to spend time with your family, you may consider choosing an L-shaped sofa with built-in storage units. For example, you can store board games, DVDs, remote control or other media equipment in the built-in storage space.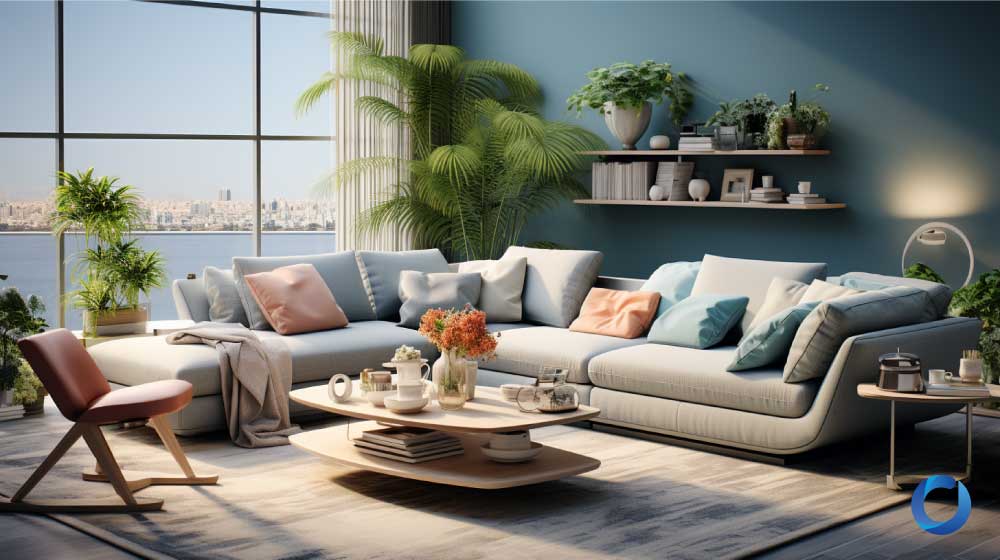 Do you want to relax and unwind in your living room? Try to look out for an L-shaped sofa with recliners. This feature provides unmatched comfort and relaxation. When you recline the chair, the backrest and footrest can be adjusted to your preferred position — ideal for lounging, napping, or watching TV. Recliners are designed ergonomically for superior support of the back, neck, and legs, making you feel extremely comfortable for long periods of time.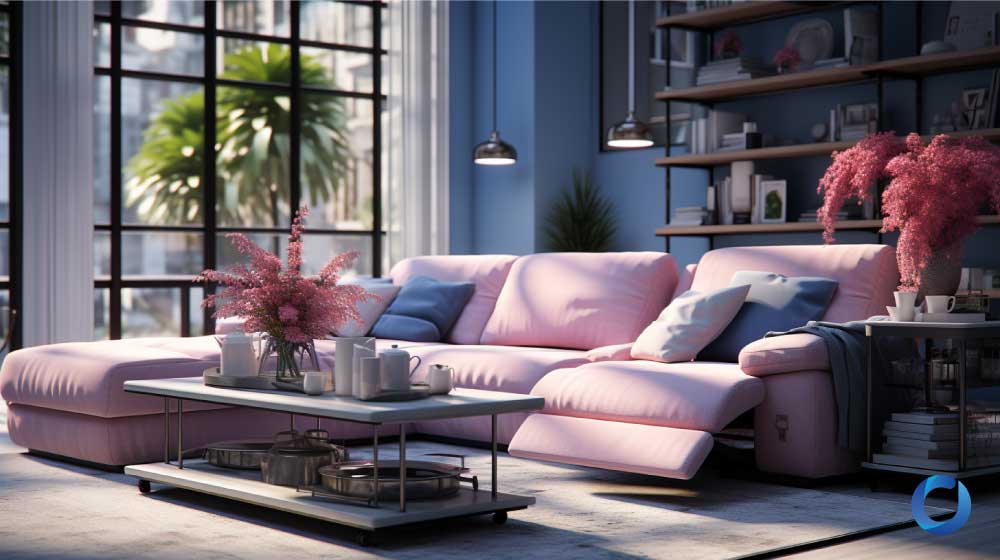 Fits Perfectly Within the Confines of the Room
Take a moment to look around your living room right now. Do you feel cramped? Or is there too much space?
Interior designer Julie Khuu explains that it's important to make sure that your living room does not feel either too small or too large when the L-shaped sofa is added.
"Measure the length, the width, and the height of the room. Of course, consider all those allowances like door openings, windows, built-ins, molding, or anything that's going to spatially affect the interior design of the space."
She goes on to say that the spatial layout of the sofa may be determined by initially identifying the primary focal point in the space.
"If your living room has a fireplace, the fireplace is almost always the focal point. If the living room doesn't have a fireplace, the gorgeous view will be your focal point. If the room lacks a fireplace, windows with a gorgeous view, then typically, the longest wall in that room will become your focal point."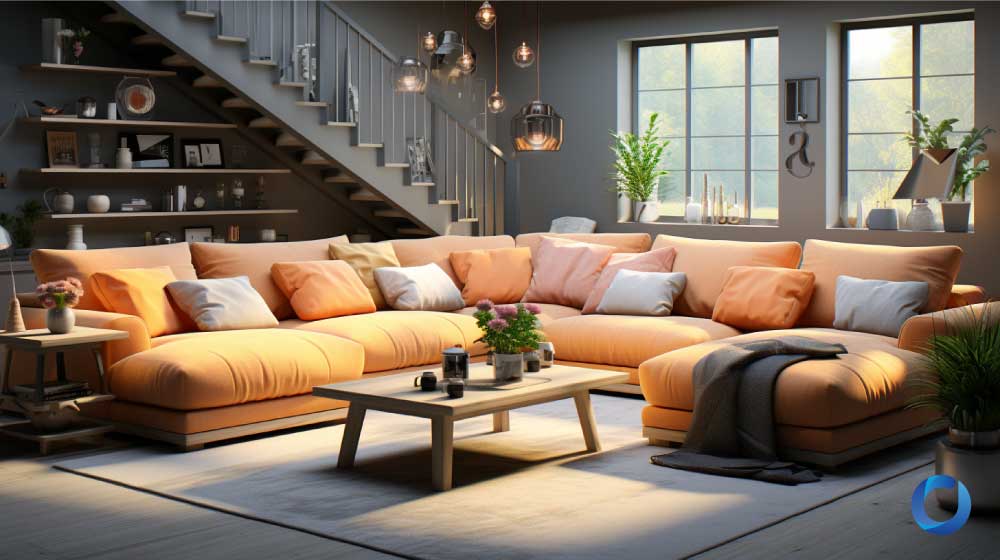 When you have determined the focal point of the room, you can place the L-shaped sofa facing it. According to the space available, you may anchor this against the wall or float it in space. After that, measure about 12 to 18 inches away from the edge of the seat to determine the largest coffee table you can fit into the space. This measurement allows a space for you to walk around the table or a place to put your legs. Getting any smaller than that will make the coffee table too proportionately small. On the other hand, the coffee table appears too large if you impede on this measurement. All the objects in the living room, including your L-shaped sofa, should be scaled proportionately to the size of the room and its relationship with each other.
It's Never Too Much to Measure
You may have never thought of measuring the seat height of your sofa before. But this measurement is important as it influences the aesthetic appeal and the overall proportions of your L-shaped sofa and your living space. The seat height must be proportionate to the other features in the room, like the height of your side tables, coffee tables, and other seating alternatives. Measuring the seat height helps you to take those proportions into account and guarantee that the sofa fits in with the entire decor.
Apart from that, the ergonomics and seating comfort are influenced by the seat height of the sofa. This determines how easy it is to sit down and rise from the sofa based on how much distance it is from the floor to the top of the seat cushion. People with mobility concerns or elderly persons may have difficulty getting up from a sofa that is too low. On the other hand, an excessively high sofa may lead to uncomfortable sitting, as the feet might dangle or cannot rest flat on the floor.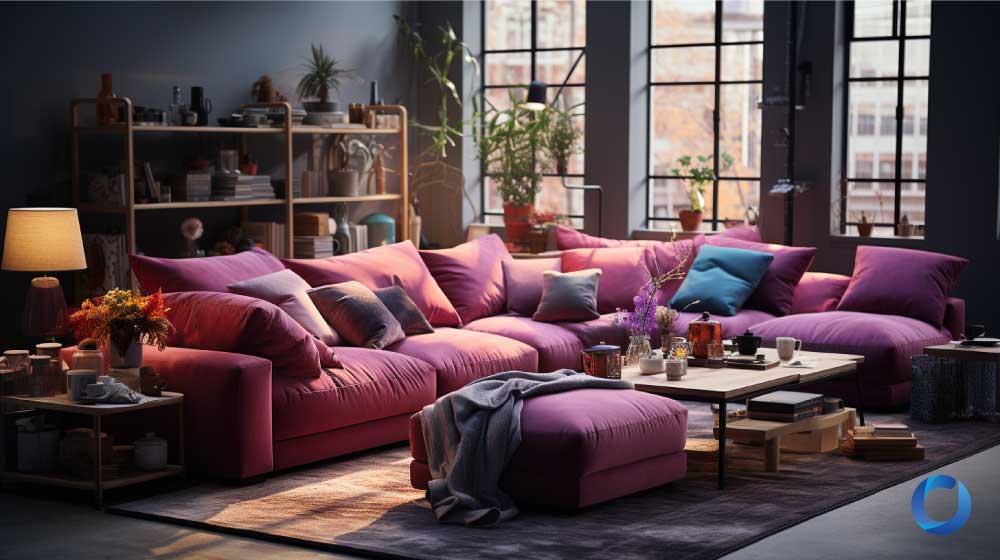 American interior designer Kyle Schuneman shares,
"The most important thing to consider when selecting a new sofa is the seat height. It is the measurement from the floor to the top of the seat cushion. For ideal comfort, your feet should be able to touch the ground when sitting upright. If you have shorter legs, consider a sofa with a lower seat height."
Another measurement you should consider when choosing your L-shaped sofa is the seat depth. It is the measurement from the front of the seat cushion to the back cushion. Kyle explains that different seat depth gives different function.
"Sofa with a standard depth of 22 inches will give you more of an upright support. A deeper sofa is approximately about 25 inches deep. These deep sofas allow you to really recline, and they have that slouchy appeal. Keep in mind that you can always shorten seat depth by adding more toss pillows."
Measuring the pillow height of your sofa enables you to achieve a heightened level of comfort while relaxing on the sofa. Pillows that are too high or too low can cause bad posture, neck strain, and feelings of discomfort. Taking the pillow height into consideration will allow you to have the perfect level of support for your body. Kyle further shares how to measure the pillow height of your sofa,
"Pillow height is measured from the floor to the top of the back cushion. Shorter pillow heights can allow you to rest your arm along the top of the cushions and provide a more spacious feeling."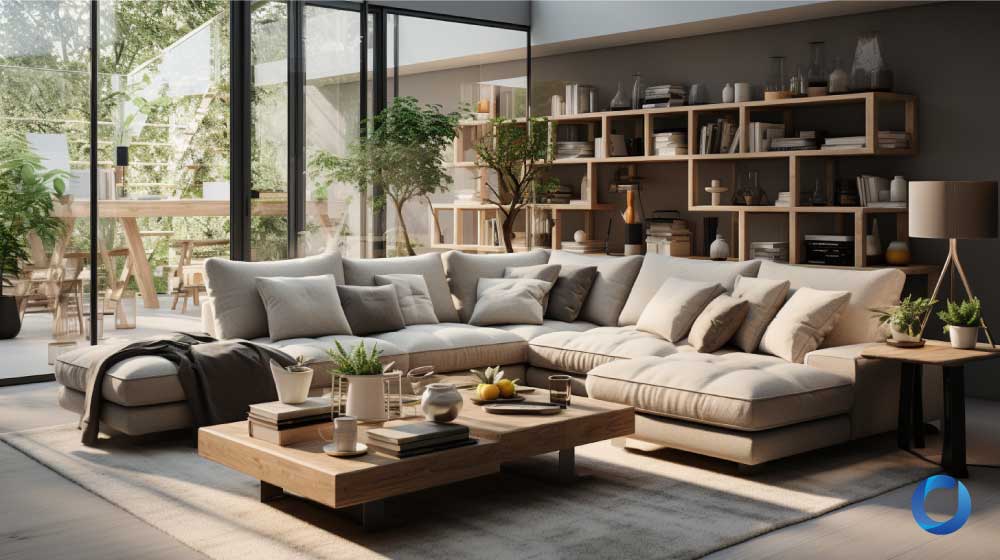 Can It Get to Your Space?
Sofa delivery is one of the most important aspects that you need to consider if you plan to furnish your space with an L-shaped sofa. First and foremost, think about the clearest path from the street to your home. Think about entry not only through your front door but also through garage or patio doors, which may provide additional clearance. If you live in an apartment, check whether you have permission to use a service entrance apart from the main entrance.
Jonathan Boyle, Vice President, Operations at Circle Furniture, adds that one of the most important things when choosing an L-shaped sofa is sofa delivery. Will the furniture fit into your doorway, then into your hallway, stairway, and finally into your room? He shares,
"Measure the smallest width and height of every doorway or hallway that we'll be moving the sofa through."
You have to think about any overhangs, banisters, handrails, light fixtures, or door knobs. If they cannot be removed, put them in your list of things to measure. If an elevator is required for the sofa delivery, remember to measure the elevator door opening as well as the interior height, breadth, and depth. Apart from that, take the diagonal measurements from the bottom centre of the door opening to the back ceiling. Before the delivery date, remove any obstacles, fragile items, or breakable decor that may be in the delivery path. Make sure there is a clear and wide path from the entrance to the designated location for the sofa. This will allow the delivery team to transport the sofa carefully and avoid damage.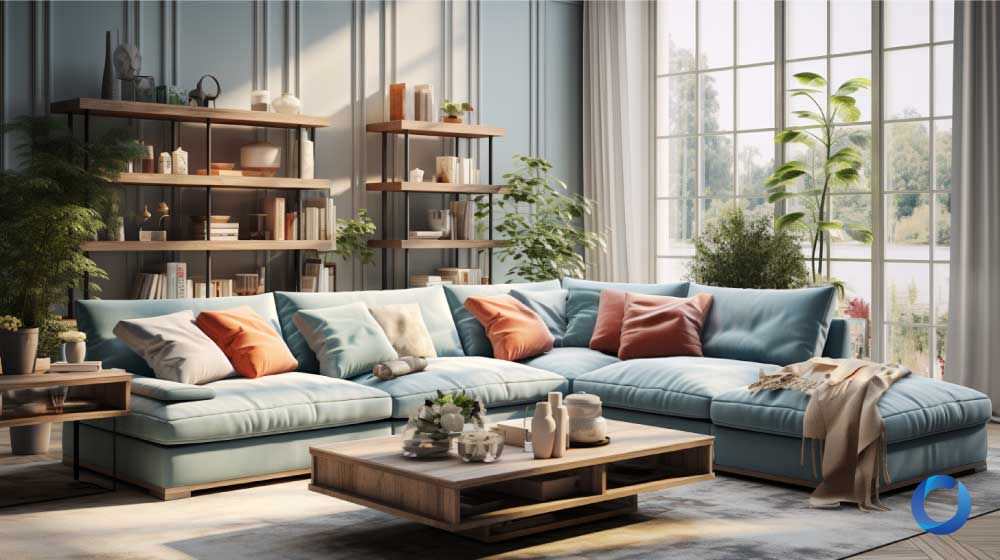 It Sits Perfectly Within Your Space
One of the main features of an L-shaped sofa is its versatile nature. The modular options offered by many furniture manufacturers can be rearranged to suit your specific layout preferences. Instead of a fixed shape that cannot be adjusted, these modular L-shaped sofas consist of a few individual parts that you can easily reconfigure when your living space needs a refresh. A number of configurations are possible, including flipping the short and long sides of the L shape, separating the modular parts to form separate seating spaces, and merging numerous L-shaped portions to make a larger seating arrangement. You may simply alter a modular L-shaped sofa to suit various events, such as gatherings or hosting visitors who stay overnight.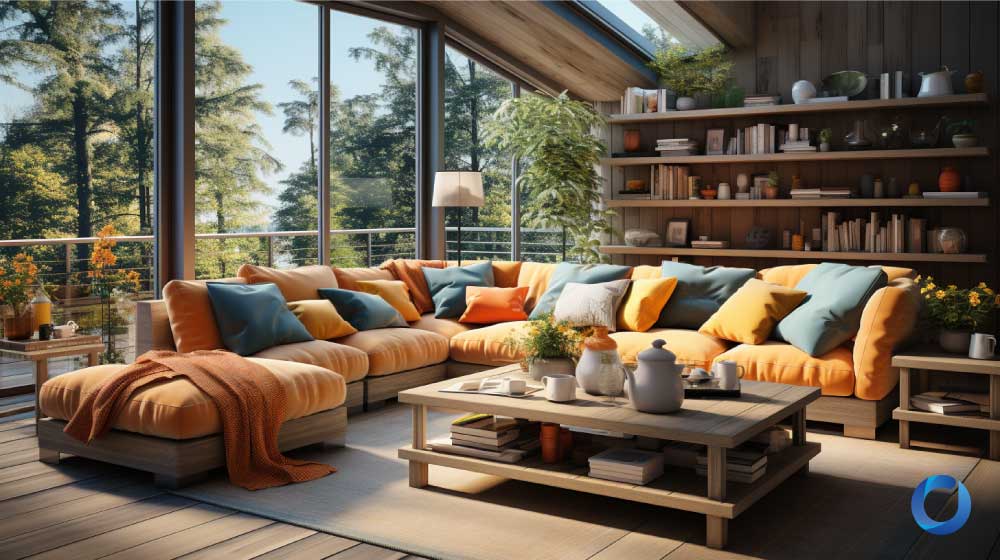 Perfect Fit for Your Style
L-shaped sofas can be customised to resonate your aesthetic, enabling you to create a truly unique and inviting space. Whether it's a cosy fabric or an elegant velvet, you can choose the right upholstery that complements your personal style. You can match the colour and patterns of the upholstery to other decorative items in the room to create a cohesive look. Have fun accessorising your L-shaped sofa with blankets, throw pillows, or cushions. Remember, you don't have to stick to a specific design and texture. However, keep in mind that you are not adding more clutters by putting too many accessories. The ideal number of throw pillows is six to seven, arranged in a group of two or three. Their placements should be only on the left, centre, or right. These pillows should colour coordinate with each other. Don't hang the decorative blanket on the back pillows; instead, spread it on the chaise lounge. Additionally, decorative elements like removable armrest covers or decorative trims can be added to enhance the appearance of your L-shaped sofa. You can also adorn the surrounding space with your favourite decorative pieces, such as flower arrangements, books, paintings, or vases.
The Take-away
These tips and tricks will help you attain a perfect fit on your L-shaped sofa, whether you're starting from scratch or giving your existing one a makeover. Keep in mind that customising your L-shaped sofa is a matter of building an environment that is tailored to your unique preferences and requirements. Take advantage of your creativity, trust your instincts, and enjoy the process of transforming your living area into a nice, comfortable sanctuary.
Looking for quality sofas with creative fabrics and easy maintenance? Find the nearest showroom at acaciasofa.co
If you are searching for the perfect curtain to express your personality at home, find our nearest boutiques at acaciacurtain.co