Find your perfect seating arrangement in the following paragraphs to turn your home into a tranquil retreat.
Comfortable L-Shaped Sofas for Cosy Lounging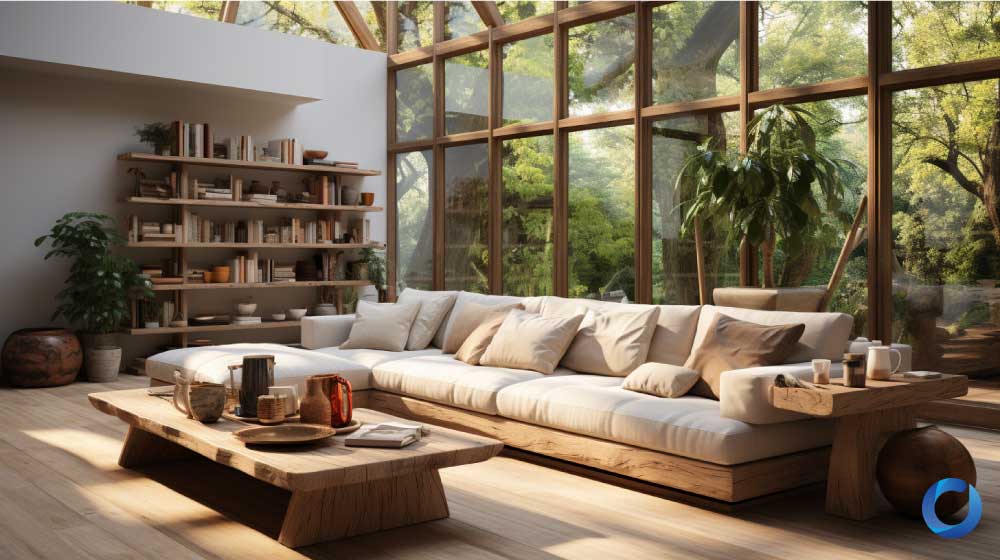 Even though we lived in Malaysia with its tropical climate full of warm sunlight and heavy humidity, my 9-year-old self-wanted to cuddle up on my L-shaped sofa with a warm blanket, a cup of Milo and a warm fire – with the TV as my stand-in since my house did not have a fireplace. I wanted and still desire to experience complete comfort and relaxation on the sofa that will lull you to sleep after a long day. 
Thankfully, we do not need a cold, chilly winter to experience warmth and relaxation from a sinking, lounging sofa. By reading this article, you will learn how to choose a comfortable L-shaped sofa model, arrange it strategically in the room, fluff it up with comforting accessories, and build the cosiest lounging area to fully unwind and sleep on at the end of the day.

Cosiness can also mean many things to different people, which means people need different levels of comfort to match their destressing routines. Hence this article will present different styling techniques to help you develop your sanctuary according to your lifestyle.


Qualities of a Comfortable L-shaped sofa.
Choose your L-shaped sofa's measurements according to your lifestyle needs.


The measurements of your L-shaped sofa should first meet the spatial requirements within your room's dimensions and the amount of open living space available. However, once you find the L-shaped sofa options that fulfil these requirements, you can further narrow down your search by testing in person which sofa has the proper measurements to meet your sitting style.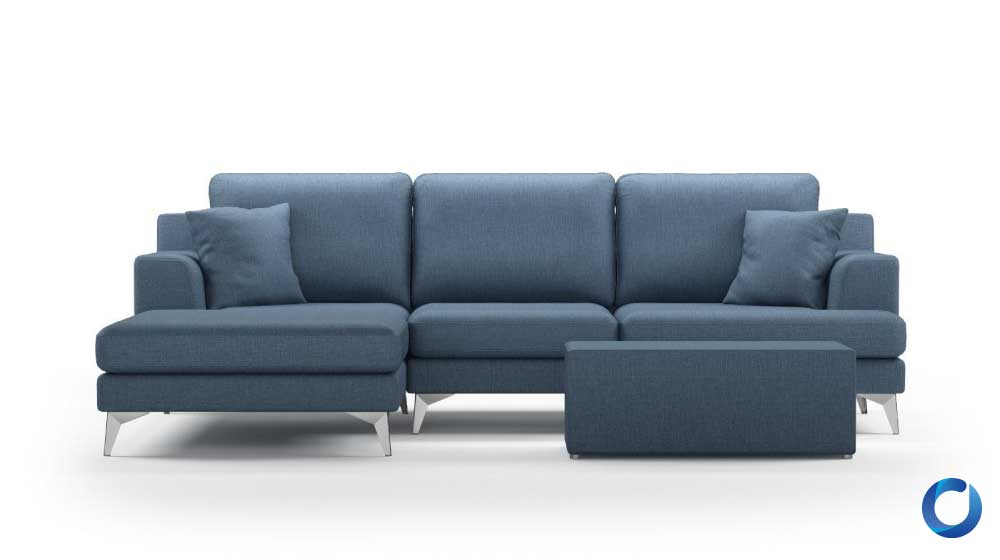 Here is a quick guide to show you have you can find the proper sofa measurements for your lifestyle needs:

Seat Depth: The depth of your seat can determine how well it supports your posture, specifically how it supports your thighs and whether or not your legs dangle. If you prefer to sit upright, find a narrow seat depth that keeps your feet at a 90-degree angle while supporting your back. If you prefer a more relaxed position, find an L-shaped sofa with a deep seat depth that allows you to sink into the cushion and gives ample room to put your legs on the seat.

Seat Height: Generally, a comfortable seating height will not let your feet dangle in the air or bend your knees smaller than 90 degrees, which is why it is often better to buy an L-shaped sofa in person than through online shopping.


Sofa Length: If you would like to lie down flat on your sofa, the ideal length for both sides of your L-shaped sofa should be around 2-3 seats, equivalent to an average person's height.

Armrest height: Not all L-shaped sofas have both armrests or any armrests. If they do, look for models with thick, elbow-height armrests for ample space and support, like the model below. If the armrest is too high, it will strain your arms and elbows, while conversely, a low armrest will cause your arm to hang heavy under its weight.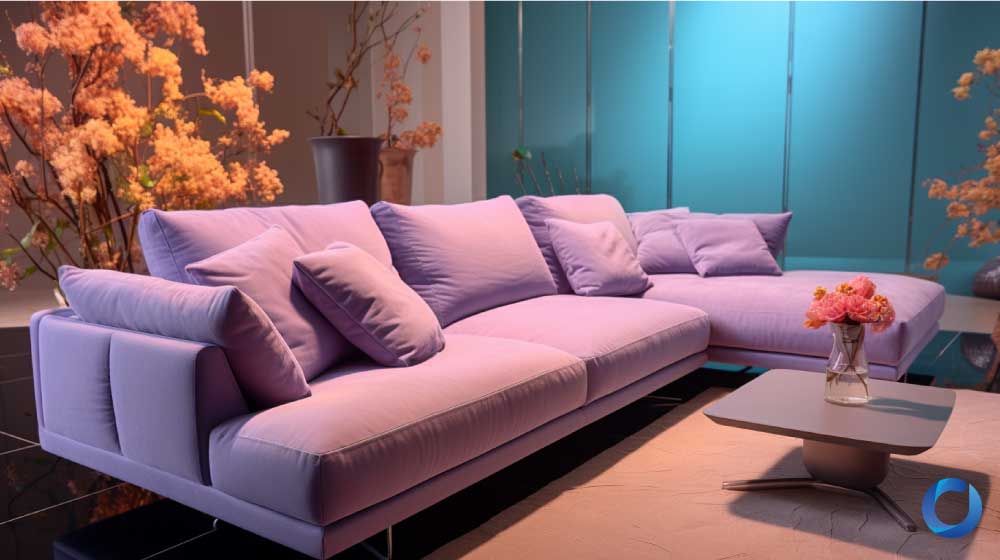 Soft Sofa Fabrics.
The softness and texture of the sofa's fabrics can significantly affect the L-shaped sofa's comfort level, especially if the sofa covers are not removable. With this in mind, there are four kinds of upholstery fabrics that are very comforting and should look out for in your L-shaped sofas: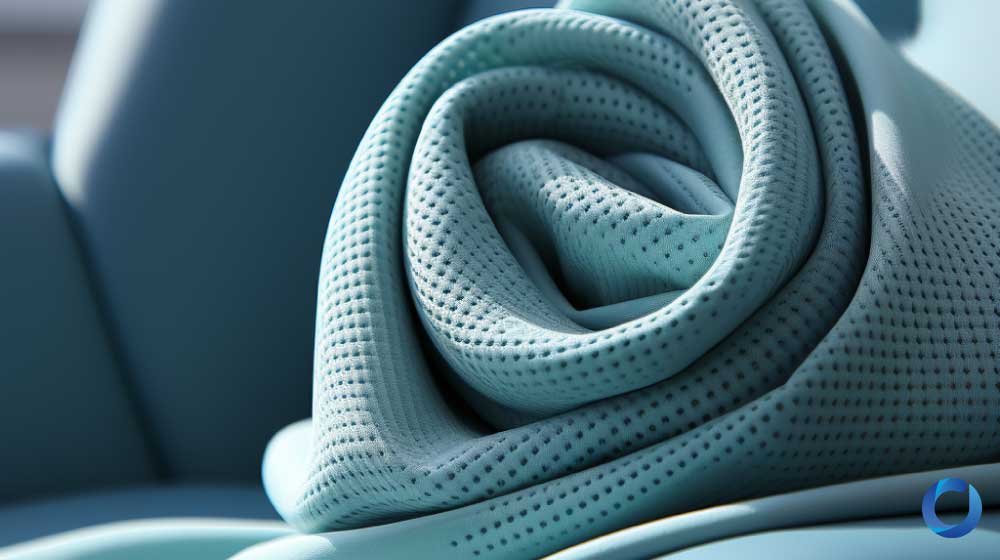 Polyester: This microfibre fabric is often blended with natural fibres to increase its durability and is much more environmentally friendly than other synthetic materials. It is affordable and comes in a wide range of colours, textures and patterns.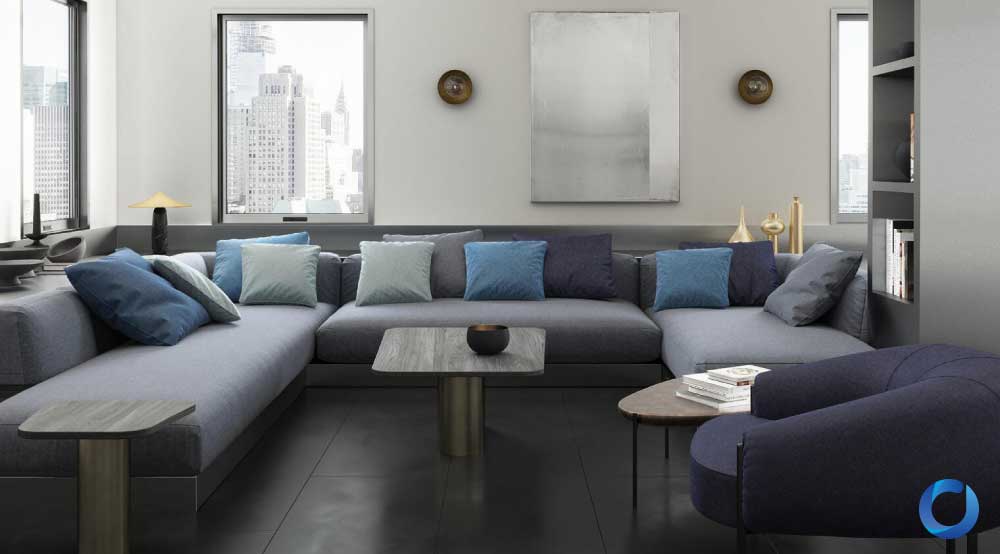 You should also choose fabrics that are comfortable for your particular needs. If anyone in your household has dust allergies, pick cotton and linen, as they are both hypoallergenic and anti-bacterial. If you have pets or children, you want fabrics and dyes to be safe for them. Acacia fabrics have their FibreGuard line that is specifically designed to be safe for animals and children, made easy to clean if a mess is made, and 100% organic.
What kind of stuffing does your L-shaped sofa have?
Different kinds of stuffing can directly change your pillow's structure and support, affecting the L-shape sofa's comfort level. Many L-shaped sofa models often use a mix of different kinds of three basic types of stuffing:
Foam: This standard stuffing has the firmest support and maintains its shape over time, making it easy to maintain. Higher-density foams have more firmness and bounce, which is especially helpful for those with limited mobility. In contrast, softer foams have a comfy sinking feeling but are less likely to maintain their shape.


Fibre: This stuffing is made of polyester strands. When they compress, the cushions will sink and resume their former shape because of the air inside the cushion. This stuffing is more versatile, affordable and gives the sofa cushions a puffed-up appearance.

Feathers: This stuffing is the most traditional and comfortable filling. However, it is more expensive and does need to be plumped regularly to even out the stuffing. Those with dust allergies should find alternate options.
Creating a lounging area with an L-shaped sofa.
Factors outside the sofa structure can also add to the sofa's level of cosiness. For example, the position of the L-shaped sofa in the living room can change the type of cosiness in your room, creating different ideal environments for different lifestyles, room sizes and activities.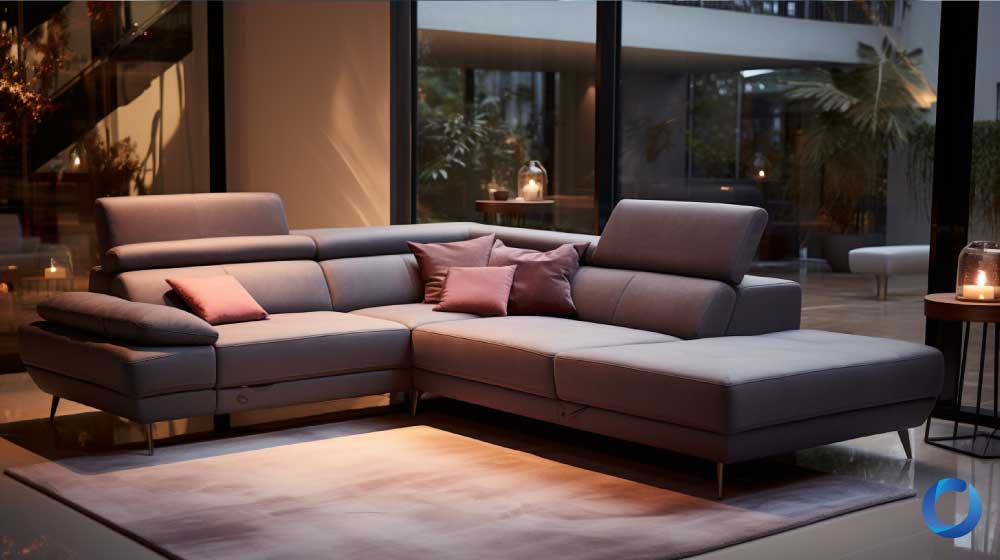 This position is perfect for homeowners with small living rooms and bookworms. Pushing the L-shaped sofa against the wall will maximise your living space and create an open area where you can move around, dance and do your daily activities while allowing you to breathe and relax on your L-shaped sofa regardless of how big it is. If you have a wide window, like the one in this picture of Acacia Fabric's top-selling L-shaped sofa, Sofa Valarie, push your sofa near it as the ample light and warmth from natural sunlight create a very comforting environment that is perfect for book reading or a short nap.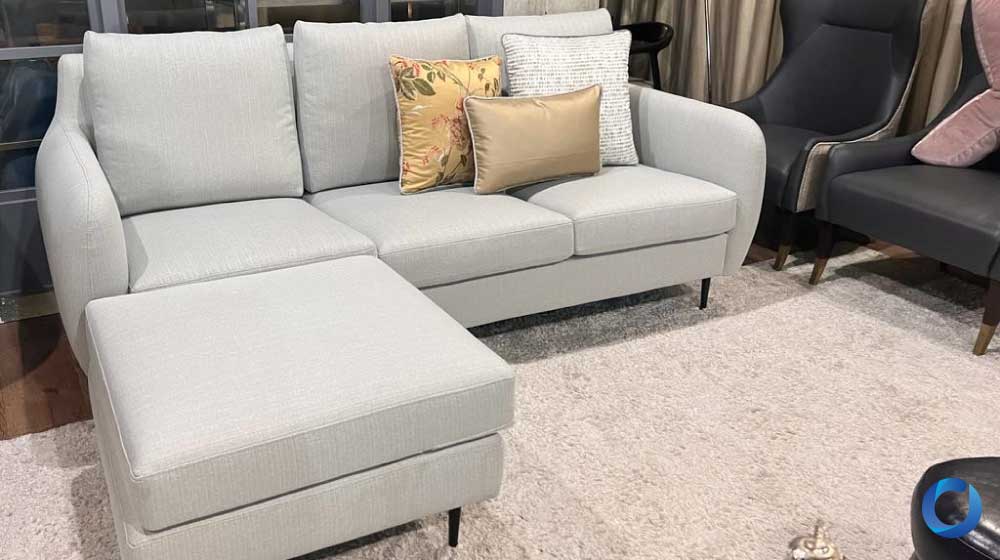 Because L-shaped sofas are wide and long, you also can use the length of the sofa to visually divide a larger room into smaller sections, creating a small intimate nook for relaxation. By defining an area for leisure, you are making a peaceful, undisturbed, yet open environment. You create a clear expectation and purpose in your area, allowing your mind to naturally destress and relax and rest quickly and easily without any worries.

This nook can be placed anywhere in a room so long as you can define your sanctuary clearly and naturally within a room with other furniture. For example, you can place an armchair that faces the L-shaped sofa to create a semicircle formation, a rug to create a visual boundary of the area or a coffee table in front of the sofa to give the space more distinction through its visual weight.
Building your lounging area
Speaking of furniture, while a well-made L-shaped sofa placed at an ideal spot in your home is already super comfortable, you can fully maximise your relaxation experience through regular clearing or adding furniture accessories that will complete your time for personal care and self-love.
Clean your sofa regularly.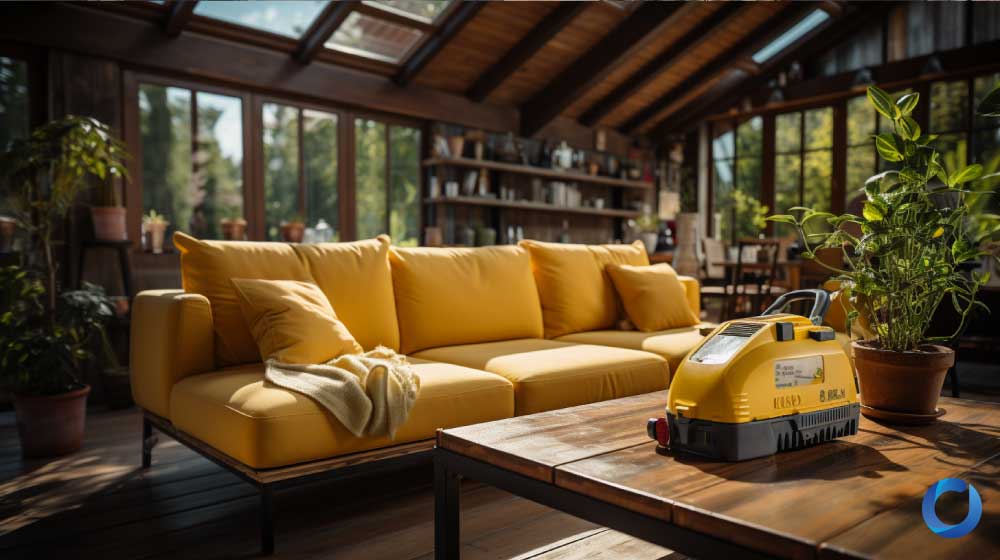 The easiest way to make your sofa as comfortable as possible without spending money on furniture accessories is to clean your sofa regularly. Nothing beats sitting down on fresh, warm, clean sheets full of thick and even stuffing, so recreate the first time you sat down on your L-shaped sofa by cleaning it as regularly as possible. Frequent cleaning helps eliminate foul odour, permanent stains and stale crumbs.
A reasonable time frame would be having a general clean of your sofa every three months and a deep clean every year. A general clean would include washing any removable fabrics, such as sofa covers, pillow covers, and throw blankets, sun drying your pillows on a hot day to kill off bacteria, fluffing up the stuffing and vacuuming the sofa's small gaps to remove any crumbs dust. A deep clean would involve restuffing the pillows, sun drying the whole sofa and adding fresh scented oils or sprays.
Throw Pillows.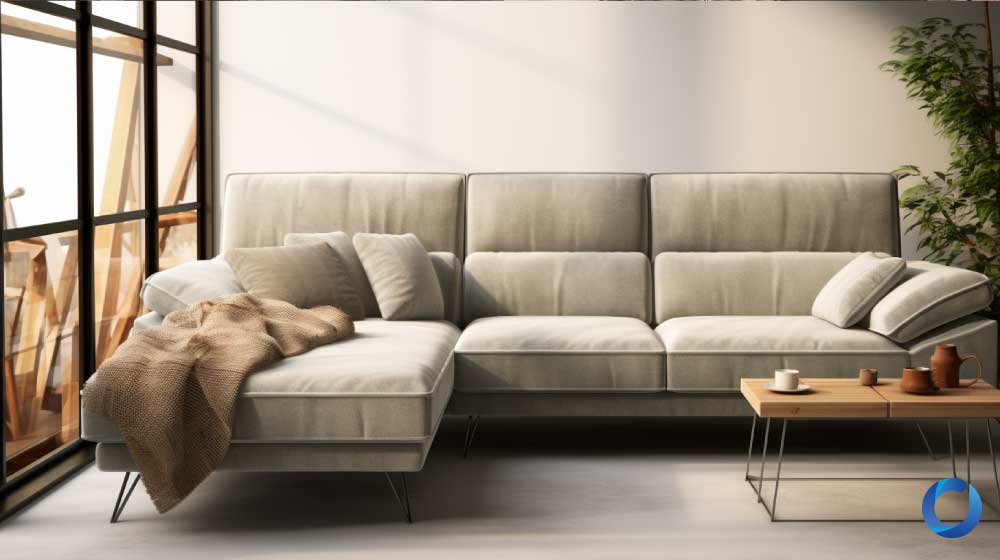 Pillows should be your first go-to furniture accessories for a cosy sofa. Not only do they make a sofa feel much more comfortable, but they can strategically put it in uncomfortable places. For example, pillows of different sizes should ideally be placed at the corner of sofas, over gaps in the sofa seats and against the armrests, where there can be an awkward sink or a hard edge. Lumbar pillows, like the ones in the model above, are designed to improve overall posture and relieve aches. 
However, take note that pillows do flatten over time, providing less comfort and support over time. So, do fluff them regularly and change the pillows when needed. You can extend your pillows' lifespan by turning them over to the unused side or getting them with high-resiliency foams.
Throw Blankets
Throw blankets add another layer of design depth and creativity to an L-shaped sofa's design while making it look cosier. Ideally, you should place them in areas where you sit the most to maximise your seating experience, such as adding chunky or fur throws over the backrest, armrests and along the extended side of the chaise segment to provide extra cushioning. If you have spare, beautiful blankets, you can use them as throw blankets for aesthetics and double them as warm, comforting body wrap for movie nights or reading sessions.
Coffee tables.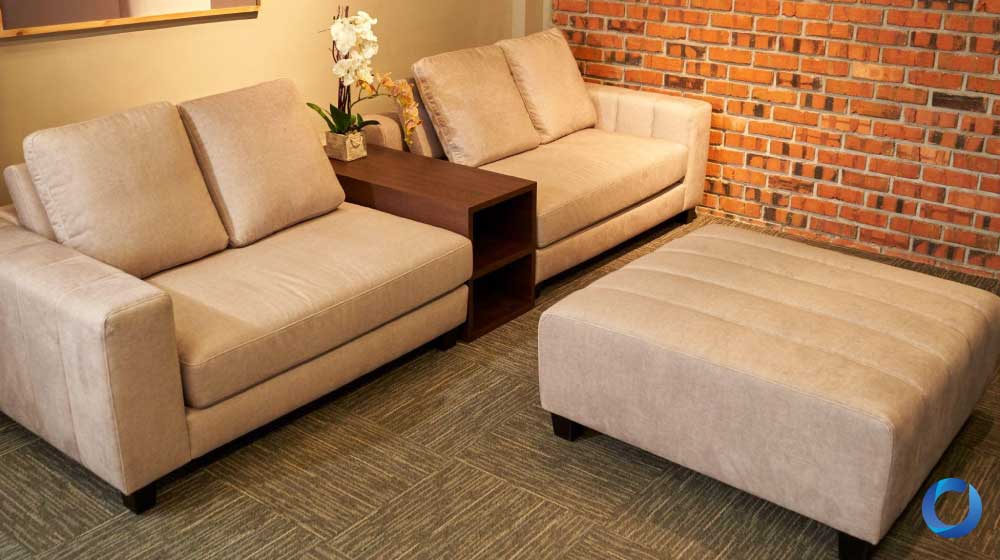 You can make your sofa more comfortable by making it more functionally convenient. For example, one of Acacia Fabric's top-selling L-shaped sofas, Sofa Bailey, has a small side table in the middle of the seats with two deep cabinets on the side. Many customers love this model because anyone can reach the table regardless of where they sit. The divider can hold your coffee cups, remote controls, phone, newspapers, magazines, lamps and other items within your reach, allowing you to stay comfortable and get what you need without stepping off the sofa. If your L-shaped sofa has no built-in side table, you can always purchase one and place it beside or in front of it to get the same benefits.
Recliners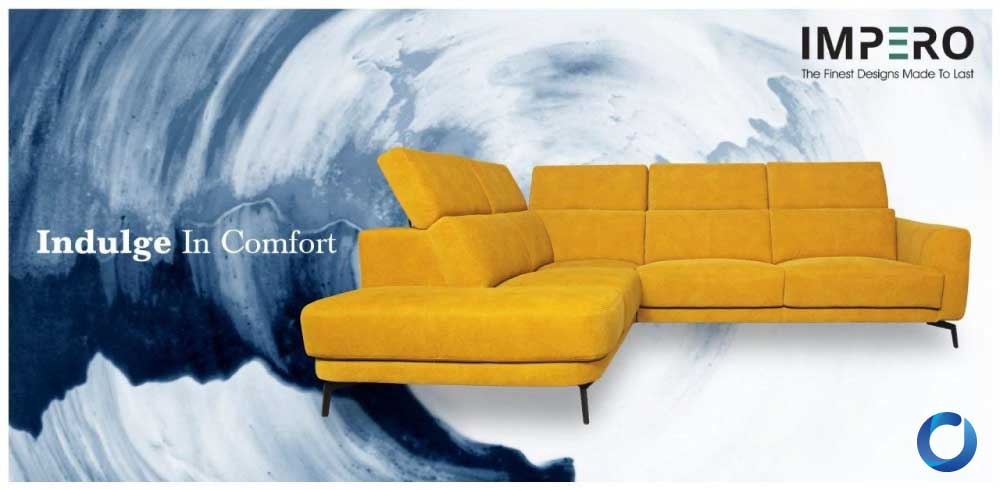 Regarding recliners, your comfort will be maximised if you buy an L-shaped sofa with a built-in recliner. However, if you want a more affordable option, look for an L-shaped sofa with a slanted backrest. A sloping backrest like the one constructed in this IMPERO sofa would guide you into a relaxed position, allowing you to lay back and take a quick break from your chores. You can create a makeshift recliner with greater flexibility and utility when you combine an L-shaped sofa with an ottoman. You can also search for models with headrests and taller backrests for more support. 
Looking for quality sofas with creative fabrics and easy maintenance? Find the nearest showroom at acaciasofa.co
If you are searching for the perfect curtain to express your personality at home, find our nearest boutiques at acaciacurtain.co