: Make the most of your small area while enhancing the aesthetics and practicality of your house.
Small Space Solutions: L-Shaped Sofas for Apartment Living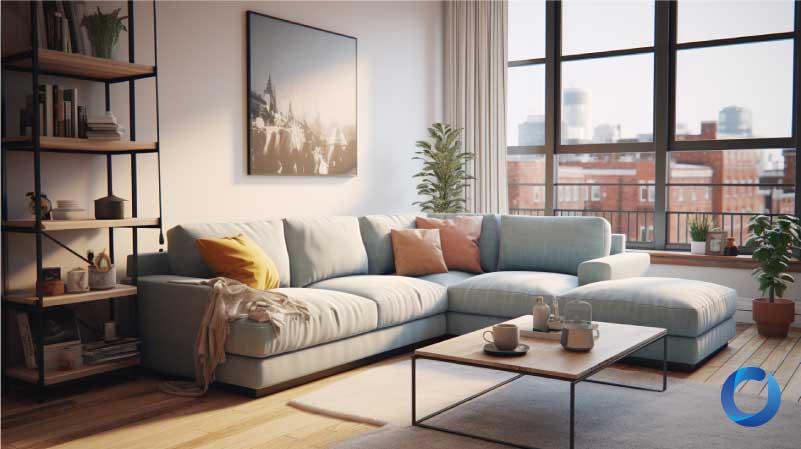 In apartments, it can be difficult to get the most out of your limited square footage while yet maintaining a cosy atmosphere. It becomes a challenge to accommodate the furniture items and decorations because of the tiny size of the apartment. Maximising each square foot of your apartment turns into a form of art.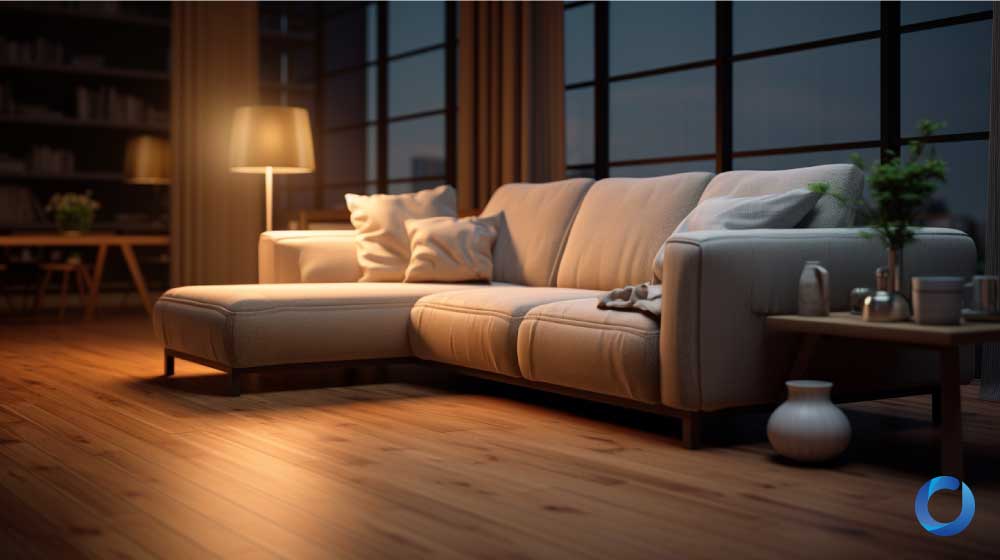 With the wonderful combination of functionality, aesthetics, and efficient space usage, L-shaped sofas are perfect for entertaining guests or relaxing in your apartment at the end of the day. Let's discover how an L-shaped sofa can bring cosy apartment to life, helping you to create a haven after a busy day. With this article, we will help you explore how these tiny space champs can transform your apartment living experience!
Challenges Furnishing a Small Space
"Living in a small space can at times be quite challenging, especially when it comes to balancing form and function while trying to make enough storage to cram all our belongings."
-Reynard Lowell, interior decorator
As apartment owners, furnishing your home can simultaneously be enjoyable and difficult. The task of decorating a limited space provides a wonderful potential for innovation and creativity, but there are also challenges to be conquered. For example, having a small living space means it is incredibly important to select furniture that is proportionate to the size of the apartment. When you place overly large or bulky furniture items in your small apartment, you can make the space feel cramped and overstuffed.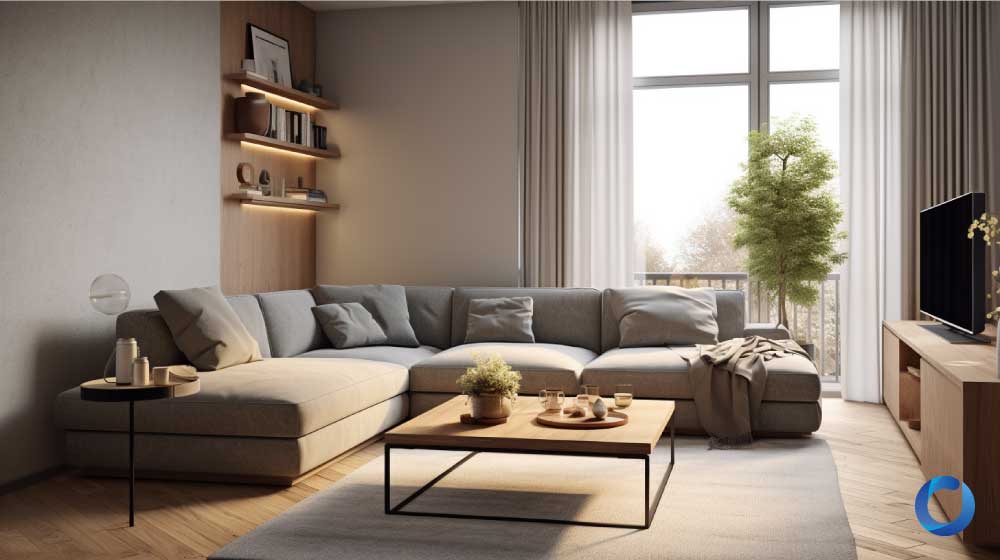 More priority is given to sleeping and living areas in tiny apartments, thus, there is often little space for utility spaces, like attics, garages, and basements, which are usually used for storing things in more spacious housings. Living in a tiny apartment also means that there are insufficient or no built-in storage features, such as filing cabinets, cupboards, shelves, and walk-in closets. Without adequate space to store your items, they may rapidly pile up and dominate the interior of your house. You may be left with no choice but to leave your belongings in the open, causing your home to appear cluttered and disorganised.
Apartment dwellers may have difficulty incorporating their unique aesthetics and personal tastes into a tiny space. Adding your favourite decorative elements may be challenging due to prioritisation on practicality and the minimal wall surface you are left to work with. There must be a balance between aesthetics and practicality. It is undeniably crucial to decorate your house with items that you really love, but at the same time you should not compromise the aspect of functionality. To successfully personalise the room without overwhelming it, you have to utilise your creativity and make sensible choices. Every furniture item or decoration should have an intended use and add to the general functionality of the room.
Small Space? No Problem!
For small spaces, the furniture items must be carefully scaled to fit without overwhelming the space. It is crucial to carefully choose each piece to maximise functionality while maintaining an open and airy feeling.
Interior decorator Reynard Lowell gives recommendations on how to choose the perfect sofa,
"A sofa that is too big will dominate the space and make it look overcrowded, while one that is too small will look dwarf or like it is drowning in the room. The rule of thumb is to have a sofa that is roughly two-thirds the length of the room or the wall it is going to go against."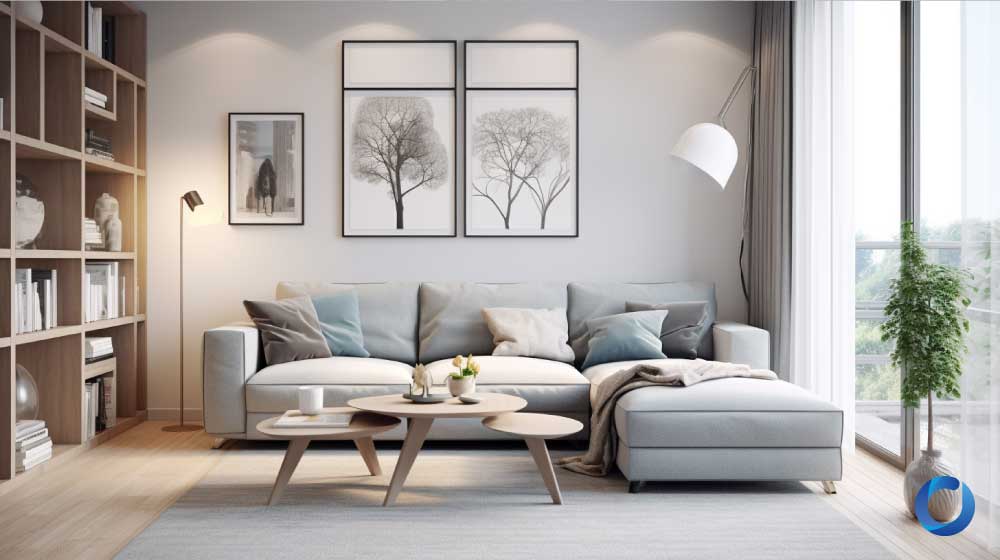 L-shaped sofas come in different sizes and dimensions. So, while selecting the most suitable L-shaped sofa for your apartment, take note of all the dimensions of the room as well as the desired dimensions of the sofa. Most people overlook this detail, but it is essential to measure the diagonal length of entrances and elevators, as well as the narrowest points of hallways and staircases, to guarantee that the sofa can be delivered into your living room. You should also consider if there are any obstructions on the delivery path, such as built-in cabinets or partitions. Bring your tape measure to the furniture store to get an accurate measurement of the sofa. If you are buying an L-shaped sofa online, verify the measurements provided in the details section.
Nestle into Corners
The difference between traditional sofas and L-shaped ones lies in their arrangement in a space. Traditional sofas are often positioned parallel to the walls, whereas L-shaped sofas nestle perfectly into nooks and corners of your living room.
As shared by an interior designer, Julie Khuu,
"Sectionals allow you to fill up a corner and maximise use of every wall."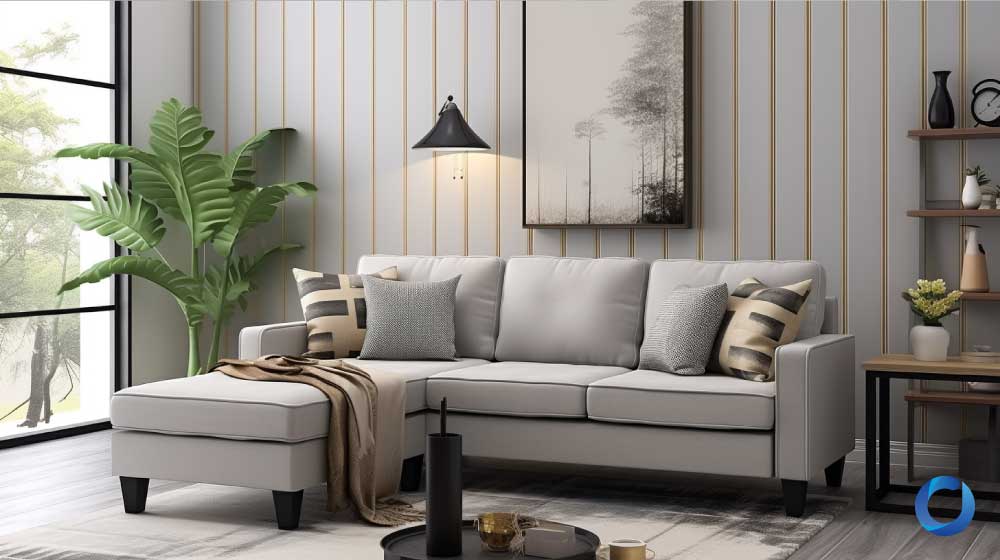 Selecting an L-shaped sofa to furnish your living room and arranging them in the corner spot may open up the centre of the living space, making it available for additional furniture or activities. Moreover, the area can feel more spacious and airier.
Sit Down and Relax
These sofas are ideal for tiny spaces as they offer plenty of seating without taking up important space on the floor. L-shaped sofas often come with an ottoman or an extended chaise lounge on one side, which act as a supplementary seating option. This feature adds to the overall seating capacity, enabling comfortable lounging and stretching out of the legs on the sofa. Therefore, no separate chairs or ottomans are required, making the available space more efficient. As a matter of fact, L-shaped sofas occupy less space compared to two standard sofas!
Detached and Reattached
Modular L-shaped sofas consist of configurable modules with individual parts or sections like the main sofa parts, chaise lounges, corner pieces, ottomans, or extra armless chairs. A variety of configurations can be made by detaching and reattaching the modular parts to suit your individual needs, preferences and according to the dimension of the room. The technique of detachment and reattachment of the sofa can differ based on the particular design of the sofa as well as its manufacturer. Some common methods include brackets, hooks, or dowels.
For example, the brackets that often can be found on the back or sides of the sofa act as fasteners that combine the two sections of the sofa together. When you pull or press the brackets, they can be unlocked, and the sections will be detached. You can then lift the separated modular parts. On the other hand, when you align the brackets and push them into position, you can reattach two separate modular sections.
If the modular parts are joined by hooks, the way of detaching them is to slide the hooks below the sofa out of the loops. Reattachment of the modular sections involves the alignment of the hooks with the loops and lightly sliding them into position until there is a secure connection.
Dowels are another method of joining two modular sections. They are cylindrical rods or pins that slide into matching holes or receptacles. Lifting or pulling the sections apart will disengage the dowels, allowing the sections to be detached. To reattach the sections, the dowels need to be aligned with the holes or receptacles, and the sections have to be pushed together until they are securely attached.
Free from Clutters and Knick-knacks
"Clutter is anything that doesn't belong in a space – whether because it belongs elsewhere in your home, or it doesn't belong in your home any longer."
One common problem shared by homeowners with small apartments is the lack of storage space. This may cause your living space to be messy and cluttered. The L-shaped sofa helps to solve this issue as it is often equipped with storage compartments. You can store things you regularly use, such as pillows, cushions, blankets, books, remote controls, or magazines, in the compartments and take them out when needed. This allows for concealing objects that visibly clutter the area, resulting in a clutter-free and more aesthetically pleasing setting. Your interior will also look cleaner and more organised.
Interior decorator Reynard Lowell shares the benefit of having a clutter-free space,
"Having a clutter-free home makes it easy to relax and allows you to focus more on the things that matter."
Transformers
"When living in a small space, it is important to make sure that every furniture piece has more than one function to ensure that you're maximising your space. There are so many pieces of bulky furniture that only serves a singular function, and when you put too many of them into one space, it quickly creates a cramped or claustrophobic atmosphere."
Reynard Lowell, interior decorator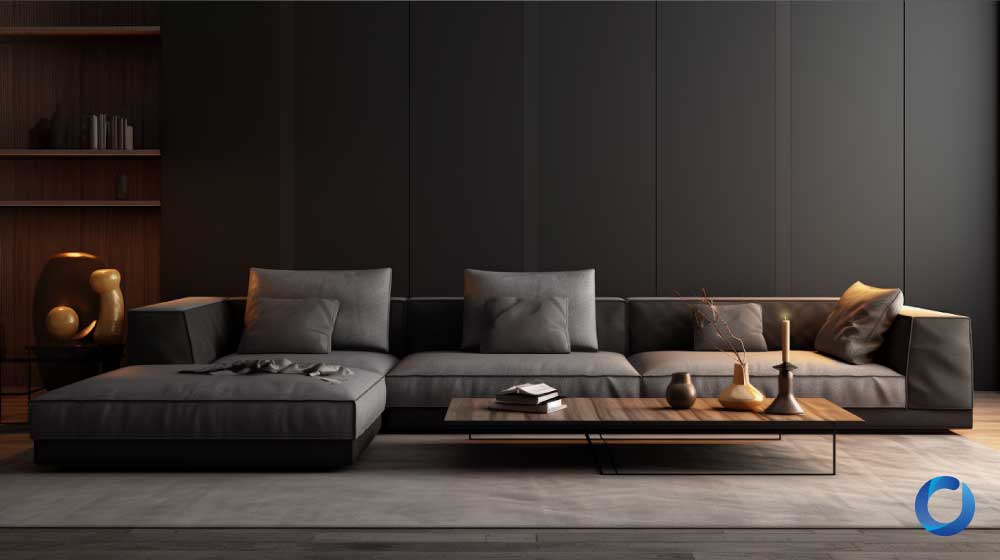 L-shaped sofas with functional and convertibility features are useful in tiny spaces since they serve multiple roles. Apart from the built-in storage spaces, L-shaped sofas are often equipped with other features like pull-out beds or convertible parts that make them more versatile and functional without needing to add separate furniture pieces. For instance, L-shaped sofas with built-in tables or adjustable parts can act as your dining or work table, which may save valuable floor space and improve the function of the tiny room. Apart from that, the L-shaped sofa may be transformed into pull-out beds on which overnight visitors can sleep. Such features are especially useful in tiny places where a separate guest bed may be impractical.
Open up the Space
L-shaped sofas come in a variety of sizes and designs. If you are a small apartment owner, one handy tip is to look for L-shaped sofas that have feet or legs. In comparison to traditional L-shaped sofas that sit closer to the floor, L-shaped sofas with legs seem airy and less heavy due to their higher positioning. The structure of these L-shaped sofas is lighter, which makes the space feel more open and spacious.
An interior designer, Olga Gomes shares a tip on how to look for the right L-shaped sofa for tiny apartment space,
"Look for sectionals that sit on legs so they can come up off the floor visually as well as maximising arm thicknesses so that you can see past the arm, opening up the space around the sofa.
Selecting an L-shaped sofa with arms at the same level as the sofa back can also help visually open up your living space. Sofas with bulkier and taller arms may prevent your eye from wandering in and around the sofa. On the other hand, the lower arm design allows the eye to roam easily from one side to the other side of the room by establishing an open line of sight across the living space.
Olga Gomes explains the effect of the low arm design, 
"When you have a sofa that has a lower arm, you can see past the arm more easily and all of a sudden, the sofa does not feel so clunky and boxy, and the room visually opens up. "
The Take-away
L-shaped sofas offer both practicality and aesthetic, which makes them an ideal option for people looking to maximise the space in their apartment. Apartments usually come with limited square footage, and L-shaped sofas are a smart solution to making the most of your living space. You can select a suitable L-shaped sofa by thoroughly evaluating its dimensions, style, and storage options available. This will not only elevate your space but also contribute to a pleasant and welcoming experience for you and your visitors. Don't forget to visit Acacia Sofa for great selections of L-shaped sofas for your apartment!
Looking for quality sofas with creative fabrics and easy maintenance? Find the nearest showroom at acaciasofa.co
If you are searching for the perfect curtain to express your personality at home, find our nearest boutiques at acaciacurtain.co