To the untrained eye, contemporary sofa design is indistinguishable from its modern-style counterpart.
Home Decorating with Contemporary Sofa
Do you have an eye for home design that is characterised by minimalism and modern décor? If your answer is "Yes", you are probably also an avid follower of contemporary style. Although many people seem to think of this design as frigid and lacking in character, modern homes with contemporary interiors are quite the opposite. Subtlety, simplicity and grace are key characteristics of contemporary style. It is pleasant and inviting without looking gloomy or cramped.
Contemporary Vs Modern Design
To the untrained eye, contemporary sofa design is indistinguishable from its modern-style counterpart. A sofa is just a sofa, right? Even when you look up the word "contemporary" on the thesaurus, most probably the listed synonym is "modern". Nevertheless, terminology matters when you're passionate about interior design. Despite appearing to be interchangeable at first glance, each design contains subtleties you may not have noticed before. So, let's delve into what some of the most commonly used design terminologies truly mean. 
Modern design corresponds to a particular era from the 1920s through the 1950s when furniture design underwent substantial change. Before the 1920s, furniture was often extravagant, customised, and handcrafted for the person. Although mass manufacture of furniture existed before the 1920s, it still appeared to resemble an earlier era. Historically, modern furniture design has been heavily influenced by the modern art movement. Several key figures were associated with the style, including Le Corbusier, Florence Knoll, Charles and Ray Eames.  The new designers rose to fame with their functional furniture designs that were clean and sleek. In fact, "Modern" is actually short for "Mid Century Modern" design which has clean, unembellished lines and adopts a rigid set of stylistic standards – including the use of natural materials such as leather and wood, earthy colours and sleek shapes.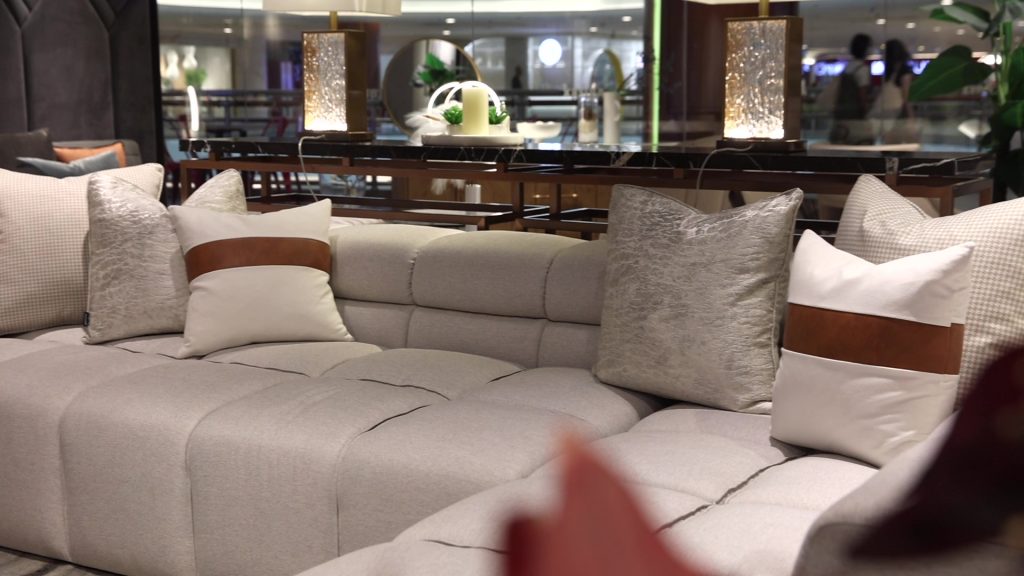 In contrast, contemporary design does not belong to a certain historical period; it always evolves and draws its inspiration from whatever is currently popular. The term "contemporary" is also known as "existing," or "what is happening today." Yes, we indeed live in modern times, however, contemporary design refers to all existing designs that are nowadays trendy, always evolving and growing. Its style is fluid and adapts to current looks and preferences; thus, current contemporary design may not resemble contemporary design in another 50 years. Your interior design may be considered contemporary as long as the designs are popular, evolving, and trendy. Furthermore, contemporary design sofa embraces new materials and technology while incorporating elements of modernism, minimalism, Art Deco, and other international styles with no emphasization on any specific style. In other words, it might feature a variety of designs and styles that represent the current age of furniture. For instance, you may have one trendy design for your couch while another different trendy design for your chair and table. In reality, many people prefer a diverse style for their home decoration, which mixes various different components together. So, regardless of whether you pick a specific design or have each piece unique to its own designer, it can all still be contemporary.
Characteristics of Contemporary Design
One might say that contemporary furniture design can be challenging to figure out at times due to its very distinctive characteristic – following the trend of the moment. Contemporary design is fairly ambiguous; it is defined as a movement of continually shifting artistic trends that relies on the latest style to stay relevant. Below is a list of the qualities that are, for the moment, considered as contemporary:
Smooth surfaces and clean lines
The contemporary sofa of the present time often mixes modern designs rather than intricate ornamentation or decoration. One of the most distinguishing features of contemporary sofas is their modern minimalist appeal. The focus on functionality in a contemporary sofa is also borrowed from the modern aesthetic. A contemporary sofa is defined by its comfort without being extravagant. Think straight, clean lines, high-gloss, smooth surfaces and an occasional sensuous curve. Contemporary sofa has a simple look that is airy, bright and aesthetically pleasing, where less is considered more. While some inlaid patterns are often angular and geometric, some can be soft and curvy and upholstered furniture is low to the ground with squared arms. Lines, on the other hand, should be bold and crisp. Bold lines in contemporary interiors are created by high ceilings, large, uncovered windows and the use of dramatic colour blocks. The purpose of this design is to open up the space and garner attention to other statement furniture, making them stand out more vividly.
Square edges
Sofas in contemporary furniture design frequently feature square-edged metal raised above the floor, allowing an unobstructed view underneath the pieces. Identical to the appearance of modern sofas, contemporary sofas have thin angles and metal tubular legs with no frills or skirting. Contemporary sofas also feature negative spaces beneath and around them, which are just as important as their positive spaces. Moreover, contemporary sofas often have a striking rectangular silhouette in neutral or dark colours and are constructed of fabrics with a soft texture.
Blends of textures and material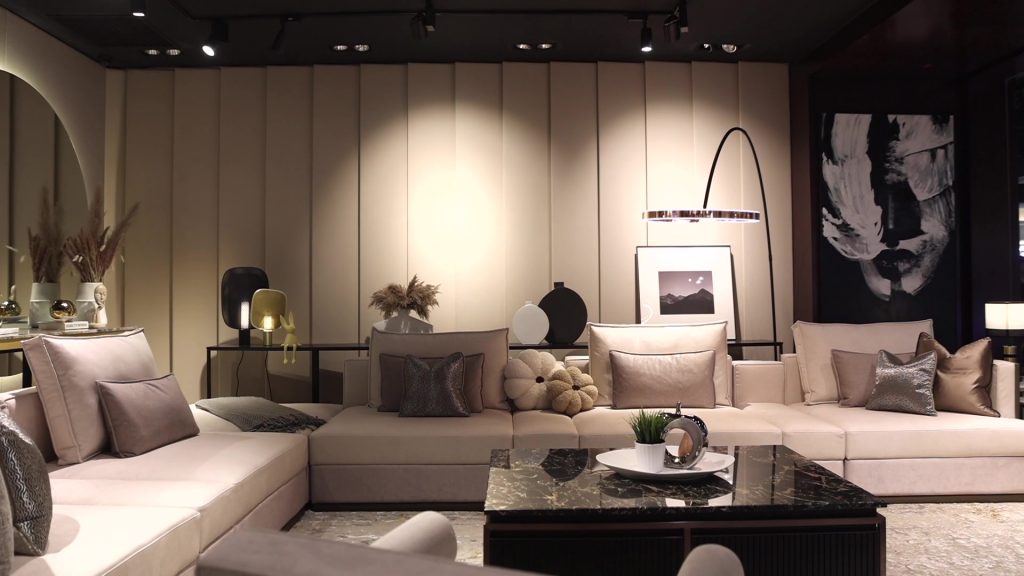 To avoid a repetitive look, contemporary house designers prefer to blend various textures and materials. For instance, contemporary sofa is typically made from a wide range of materials and textures, which include fabrics and natural woods. Apart from that, contemporary sofas with a live edge may be paired with neutral-toned upholstery to create a setting that is both simple and cosy. An elegant, low and wide entertainment system may be combined with modest shelving installed on the overhead wall. Bedroom furniture in contemporary style consists of platform beds and low-slung furniture. For practicality and style, lighting fixtures are frequently metallic and wispy thin, or they are built in as track lighting.
4. Clever use of colour
Contemporary sofa pieces frequently incorporate different tones of black and white, as well as neutrals like grey, beige, and taupe. These neutral colour selections contribute to a calm yet crisp and clean appeal. This style can be decorated with a pop of color like teal or magenta, but furniture colour palettes are often neutral to make the decor stand out. These strong, vibrant, and elegant colour palettes of the decorations and accessories contrast the neutral tone of the contemporary sofa, resulting in a dynamic atmosphere.
5. Sustainability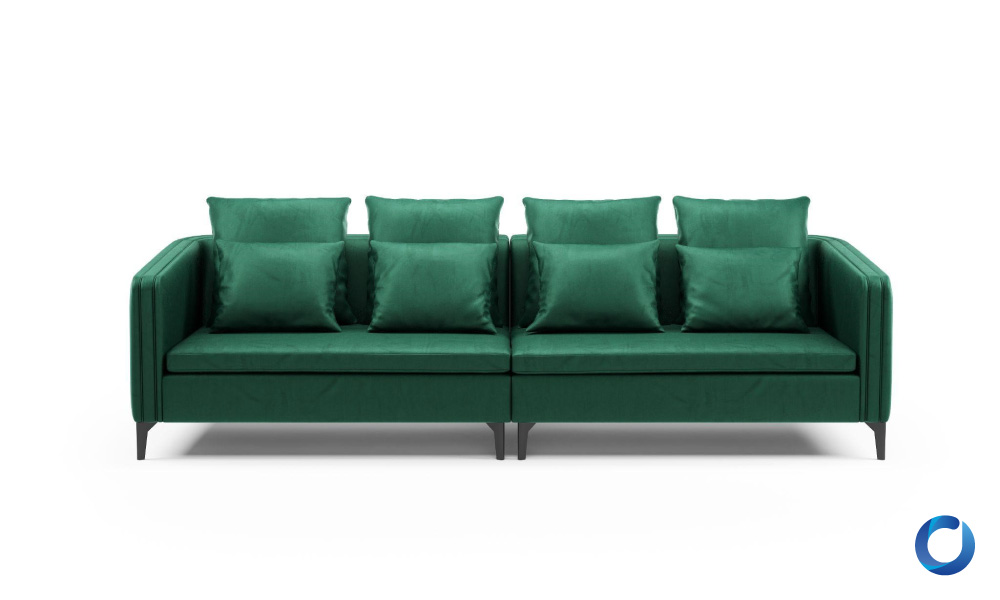 Sustainability is the buzzword in the current design industry. Our awareness of how we affect our planet, the life cycle of products and our involvement in the relationship between the two has culminated in a paradigm shift in the design world toward more sustainable production. We're in the midst of an eco-renaissance, from improved transparency in supply chains and local, ethical sourcing to the utilisation of upcycled pieces and natural materials. Climate change is a big concern for many individuals who want their furniture selections to represent a more sustainable lifestyle. Contemporary sofa produced today is very different from sofas designed in a modern style, when commodification was just beginning to gain traction and sustainability wasn't even a thing yet. Nowadays, the concept of sustainability is becoming increasingly popular, and it is also being incorporated into the architecture. As a result, contemporary sofas mirror this trend, with designs that are not only kinder to the environment but also look incredible. Some of the most common ways that these creative minds are integrating sustainability into furniture design are reconsidering post-consumer pollution and upcycling ocean plastic. Most of these pieces are currently made-to-order and require a significant investment. The primary goal is ultimately to live in a society where ethical design is the rule rather than the exception. Learn more about sustainability.
Natural light
The contemporary design makes full use of natural light to highlight all the shining surfaces.  A home can be transformed by natural light depending on how, when and where it is used. At its most basic level, it creates lovely ambient light that accentuates the simplicity of a home's layout and structure. Furthermore, it may be used intentionally to bring colour and texture to a home, typically for dramatic results. The ability of light to reflect off of surfaces, blend into different materials and emphasise grooves or other textures adds character and appeal to a home and makes it unique. It is ideal in contemporary design to keep large windows untreated or with minimal treatments, such as narrow blinds or Roman shades, to let ample natural light into the house. Furthermore, the reason why natural light is frequently used in contemporary home design and architecture is because it enhances our mood. Our bodies have adapted over generations to react to the sun and its light. The rising and setting of the sun determine our internal circadian rhythm. When we are asleep, the sunlight hitting on our skin inhibits the body's manufacture of the sleep hormone melatonin, helping us to wake up naturally without the need for startling alarms. Apart from that, sunlight stimulates our bodies to produce Vitamin D.  A design approach that takes advantage of this fact is often called biophilic design: Design that strives to improve a person's health and well-being.
7. Open and spacious
Because of the "no frills" approach to decorating, a home furnished with a contemporary sofa frequently has an open and large area and is simple to keep clean. Art and accessories feature prominently, with dashes of colour sprinkled throughout. The space appears uncluttered, with only a few modest items to offer a splash of colour or break up the linearity of the furniture. A few sculptures, centrepieces or accent chairs with unusual shapes will stick out amid the contemporary sofas. Some individuals may also consider placing one huge piece of art to serve as a focal point of the space.
Three Reasons Why You Should Invest in Contemporary Sofa
There are several reasons why investing in a contemporary sofa is worthwhile, below we highlight three of them:
For starters, sofas in contemporary style will persist for many years. Its sleek and sophisticated design in subdued neutral colours is timeless and it is simple enough not to go out of style.
Secondly, contemporary design produces an island of tranquillity in a stressful environment. Contemporary design is soothing. The sofa's colour palette is warm and relaxing and the space is large and clean, making your home a haven for both you and your dear ones.
Apart from that, a sofa in the contemporary style is simply adaptable because it works well with different architectural designs and spaces and can be incorporated into older residential living or new housing.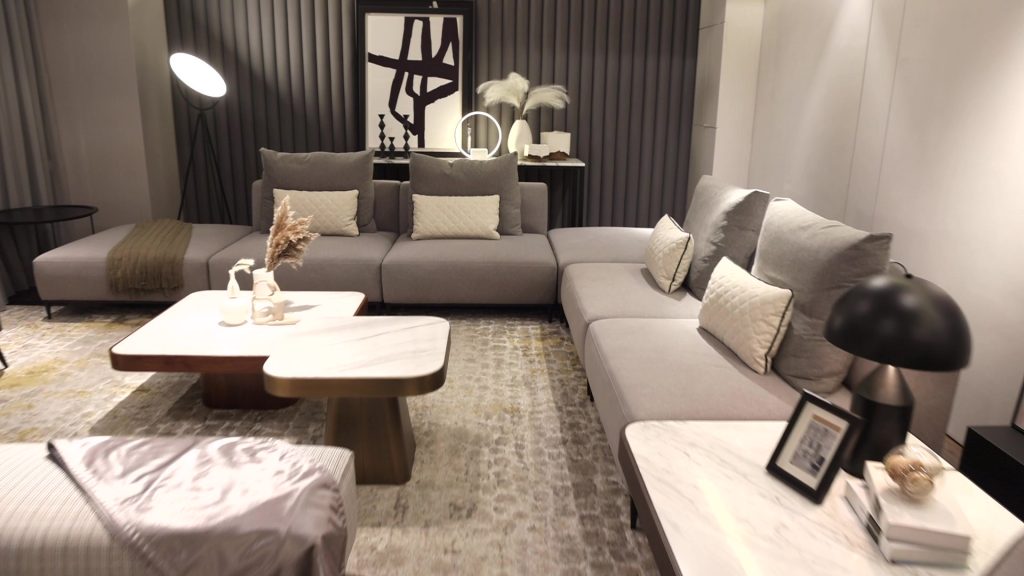 The Take-Away
The easier the concept, the more difficult it is to describe. Similarly, understanding the various nuances of contemporary design and then implementing them in your own place may be challenging. We hope that this post has helped you to learn the tips and tricks on how to decorate in a contemporary home style, make you better understand what contemporary style is and give you the inspiration to rejuvenate your space. But remember, it is also okay not to fully comprehend contemporary design due to its constantly changing and growing nature. What we label "contemporary" at the present time will evolve in a generation and will be called something entirely different to distinguish it from what is trendy in that current day and age.
If you are searching for a contemporary sofa, please explore our selection here. Acacia Fabrics takes pride in providing our clients with trendy items that you will definitely fall head over heels with. 
Looking for quality sofas with creative fabrics and easy maintenance? Find the nearest showroom at acaciasofa.co
If you are searching for the perfect curtain to express your personality at home, find our nearest boutiques at acaciacurtain.co