Experience the transformative power of an L-shaped sofa and witness how it effortlessly enhances your interior decor.
The Benefits of Owning an L-Shaped Sofa
In apartments, it can be difficult to get the most out of your limited square footage while yet maintaining a cosy atmosphere. It becomes a challenge to accommodate the furniture items and decorations because of the tiny size of the apartment. Maximising each square foot of your apartment turns into a form of art.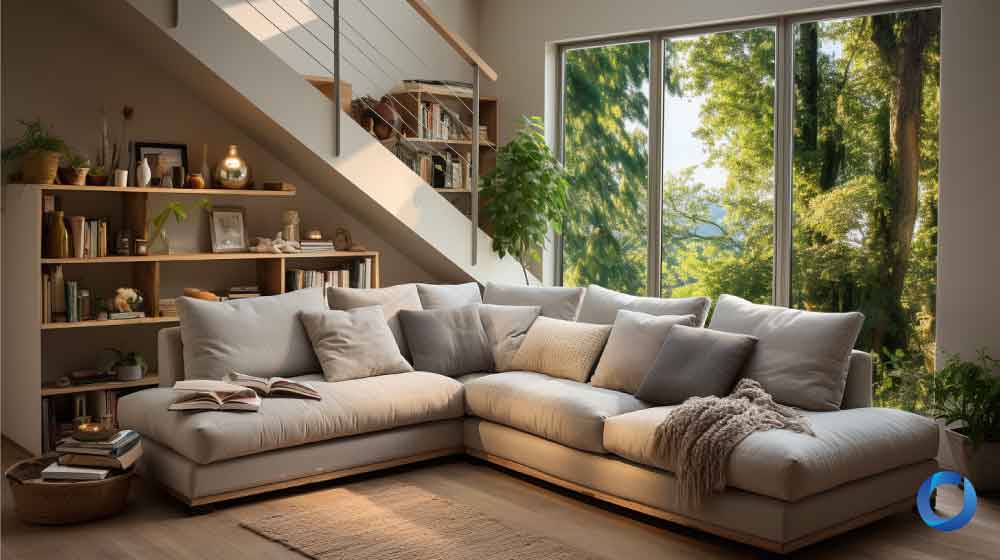 Cosiness is Just Around the Corner
"So, love is rest? The cosy corner? The little nook? Sometimes it ought to be. Sometimes it is."  – Doris Lessing
Corner areas are hard to furnish well. However, an L-shaped sofa uses the available spaces efficiently by nestling perfectly into them, unlike a traditional linear sofa which follows a straight line. Utilising the nooks and corners makes it possible to conserve space in the center of the room for other furniture or activities. This feature is particularly useful in limited spaces, like tiny apartments or other living spaces, where the seating capacity is increased, making it perfect for large households. The placement of L-shaped sofas in the corner of the room also enhances the traffic flow in the living space. This is because the open area in the middle of the room facilitates movement and offers a more practical, user-friendly configuration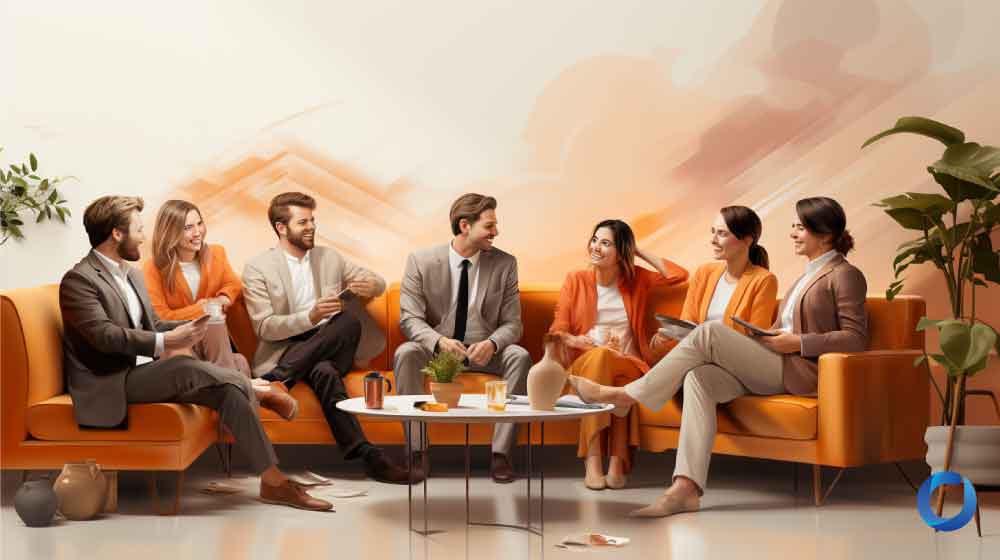 Enjoy Each Other's Company
The L-shaped sofa offers a relaxing environment that allows people to unwind and relax together. With the arrangement of the L-shaped sofa, everyone faces each other in a way that promotes eye contact and engagement, making it easier to communicate and socialise. This allows for more interaction between people. There is also a sense of enclosure and intimacy created by the unique placement of the sofa around the corner, which in turn provide the opportunity to bond and engage in meaningful conversation. This arrangement is especially beneficial for family reunions or nice get-togethers where conversations flow easily, building a sense of closeness and producing cherished memories. There is ample room on the L-shaped sofa to accommodate everyone to relax and enjoy each other's company, whether you host a game night or watch a movie marathon.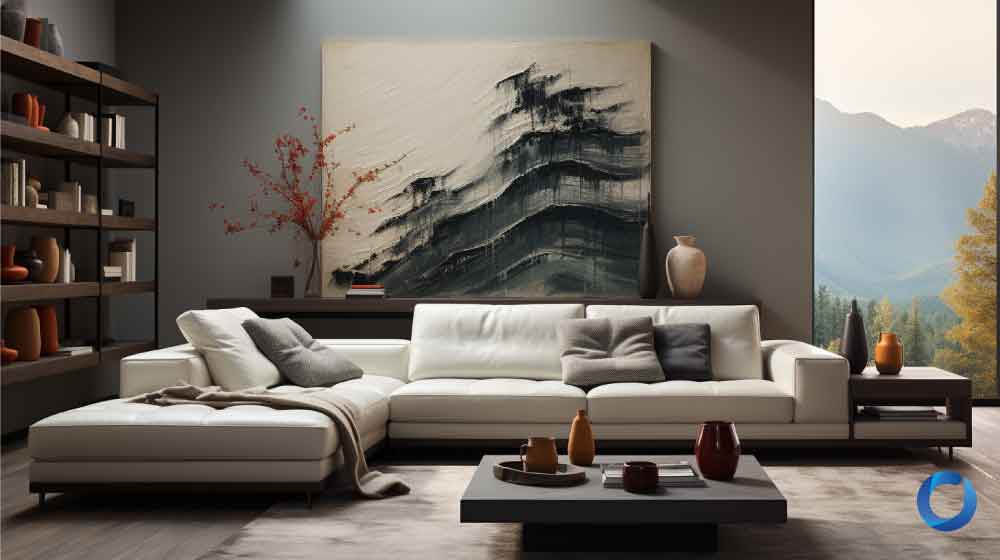 Less is More
The traditional concept of wealth was associated with abundance and conspicuous consumption, where extravagance was prominent. In this period, money was spent lavishly to achieve opulence through ornate furniture, chandeliers, and intricate details. However, cultural values have increasingly evolved away from physical possessions and moved towards simplicity, sustainability, and an emphasis on experiences. Many people nowadays value quality above quantity and strive to declutter their lives. Sleek styles, uncluttered interiors, and an emphasis on quality construction and materials have come to symbolise refined taste and a more sophisticated attitude toward luxury.
As furniture maker and interior designer Francis Jourdain shared,
"One can furnish a room very luxuriously by taking out furniture rather than putting it in."
An L-shaped sofa is ideal for this minimalistic aesthetic. An L-shaped sofa, with at most an accent chair, is a more playful, casual, and welcoming arrangement than a variety of sofas and wingchairs, which tend to be cluttered and overly formal. L-shaped sofas give off a less formal vibe and thus create a more inviting and casual atmosphere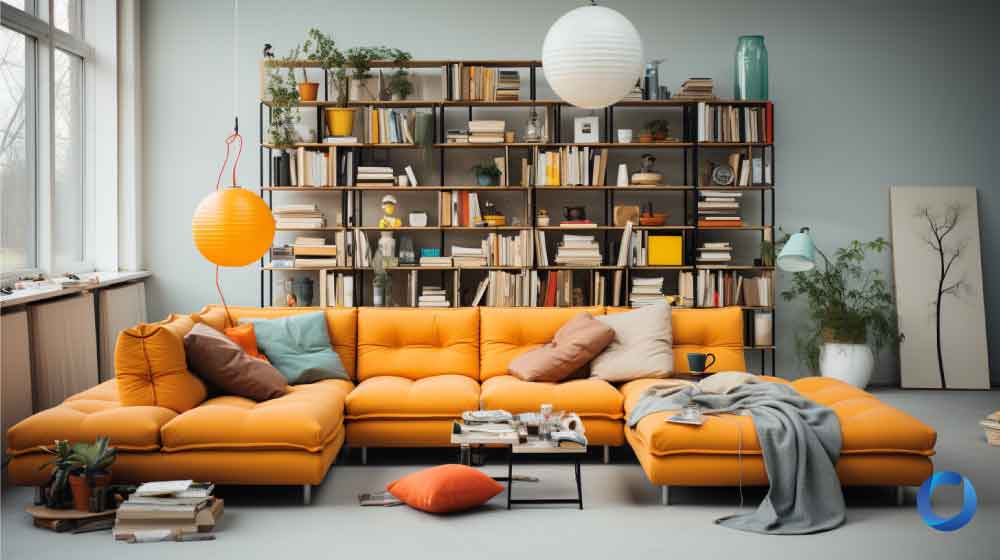 One Size Fits All? How About Versatility Fits All
An L-shaped sofa is often made up of two different parts connected at a right angle to create the letter "L." In many cases, L-shaped sofas often allow a room to be furnished with fewer items due to their generous size. This feature allows the L-shaped sofa to be versatile, where you can use the extended part of the L-shaped sofa as a makeshift coffee table, a chaise lounge, or an additional seating space. This consolidation lets you combine all the functional parts, resulting in a more unified layout and less visual clutter. For example, it can provide several seating arrangements to accommodate various needs and situations. The design of the sofa allows you to stretch out and lounge comfortably on the chaise lounge, then move to the other section to sit upright. The sofa can also be paired with an ottoman which primarily acts as a supportive surface for resting your feet. This permits leg elevation, which promotes blood circulation, lessens exhaustion, and improves your general comfort. What's more interesting, you can use the ottomans as an alternative to a standard coffee table! Trays, books, and even ornamental objects may be placed on their flat, stable surfaces. The ottomans are made to be durable and capable of sustaining a person's weight. Therefore, when you have visitors around, you can use the ottomans as extra chairs.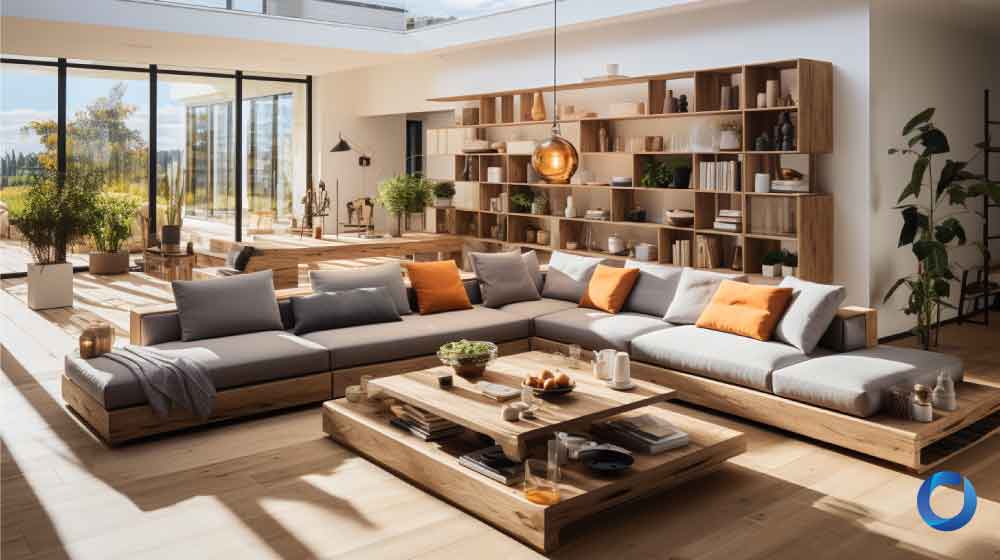 The Barriers Define the Space
The L-shaped design may be used as a makeshift physical barrier, dividing a bigger space into several zones or areas. When you arrange your L-shaped sofa strategically, you can build a visual separation between different functional areas in your house without the requirement for physical walls and without obstructing the natural flow or the line of sight. For instance, you can place the sofa in the center of an open-plan layout, and the L-shaped design will allow the division of the area into different zones used for two distinct purposes, perhaps as a  living room and a dining room. The visual separation helps to mark the boundary and give a structural definition for different areas of the room, providing each area its own character. It provides a subtle and practical separation, allowing each functional area to be still connected and feel cohesive. The L-shaped sofa may keep specific sections hidden while still offering a pleasant and isolated area for meaningful conversation and solitary activities. This is especially useful when establishing a sense of intimacy and privacy within a specific area in your room. Apart from acting as a physical barrier, an L-shaped sofa may also function as an acoustic barrier so that the transmission of noise is limited between multiple zones in your living space.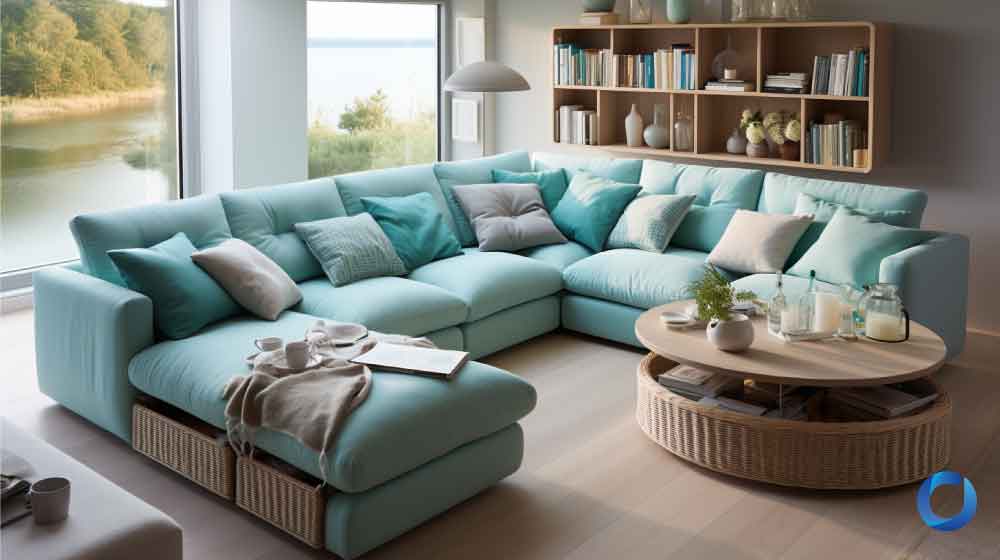 Let Freedom (from Clutter) Reign
L-shaped sofas often feature built-in storage space, including hidden drawers and compartments. These storage areas may be used to neatly tuck away things such as blankets, pillows, magazines, remote controls, and other small possessions.  Furthermore, L-shaped sofas have extended sides that offer an additional surface area for a variety of uses. There are many ways of arranging items on the extended section, such as placing trays, baskets, or organisers to store frequently used items, such as magazines, books, or decorative items. This gives these belongings an especially designated and exclusive                                                                              location, maintaining a tidier environment and keeping them accessible yet prohibiting them from cluttering any other surfaces in the space. The particular design of the L-shaped sofa makes it easy to form a natural corner space that can be utilised to conceal specific objects or areas that may be aesthetically unpleasant or add to the impression of a cluttered space. You can place the L-shaped sofa strategically to conceal miscellaneous items or unattractive things like outlets or wires.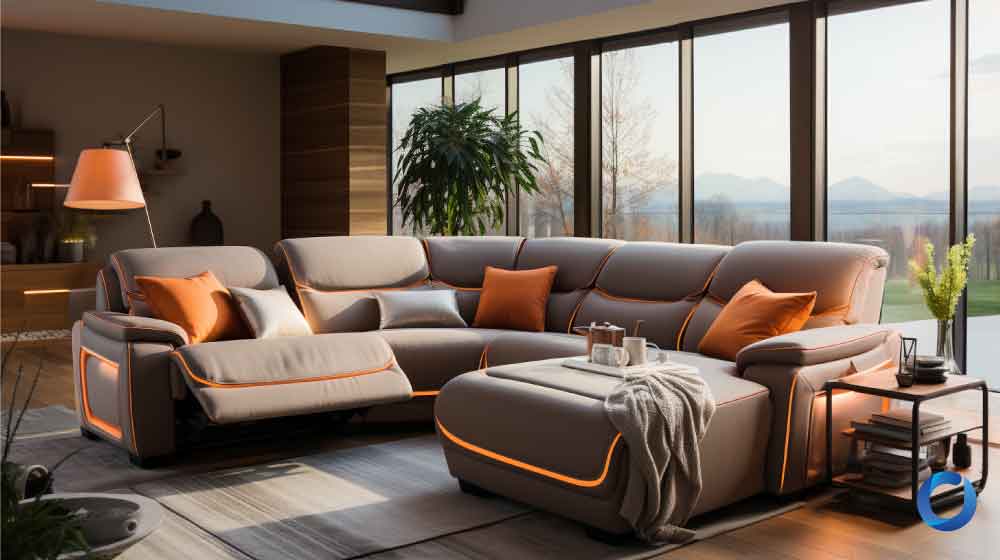 It's too Cool! 
L-shaped sofas have streamlined silhouettes and are often associated with modern and trendy designs. Aligning with the modern style, the sofas are usually seamlessly integrated with technology and cool built-in features. For example, they can come with USB charging ports that are very convenient as we live in a world with a growing reliance on smartphones and other electronic gadgets. With these built-in charging ports, you are able to charge your devices without having to search for power outlets or extra adapters. Furthermore, L-shaped sofas can include integrated speakers and sound systems. You may be able to enjoy a high-quality audio experience, regardless of whether you are watching movies, listening to music, or playing games. You can also connect your electronic gadgets wireless using Bluetooth connectivity. L-shaped sofas can come with reclining seats and headrests that you can adjust manually. These amazing features help you get the perfect posture when watching movies or simply relaxing. Other features include LED lighting that can create a futuristic and cool atmosphere. You can customize the lighting in terms of colours or even brightness so that it can fit your mood or match the overall theme of the room. The visual appeal can become more enhanced through ambient effects such as colour-changing or synchronised lighting. The presence of touchscreen controls in an L-shaped sofa can give it a sleek and futuristic appearance. This built-in feature can control seat positions, built-in gadgets, lighting effects, and entertainment features like streaming services and gaming consoles. Some L-shaped sofas have integrated beverage chillers that enable you to get refreshments within arm's reach while relaxing on the sofa.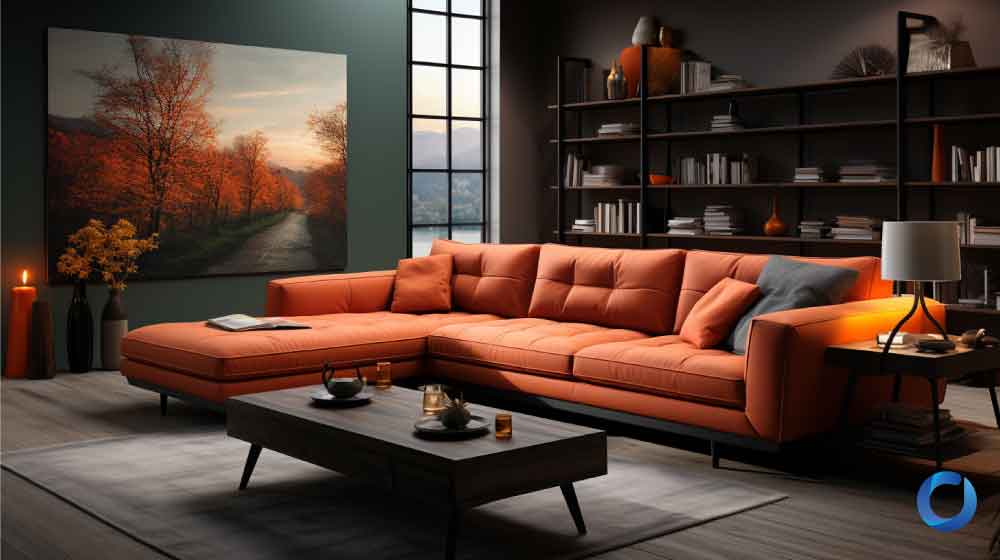 Aesthetics at its Finest
"Be faithful to your own taste, because nothing you really like is ever out of style." – Billy Baldwin
An L-shaped sofa has a unique shape that allows it to be a visually striking statement piece in your living room. The elegant and streamlined design effortlessly attracts attention and becomes the primary focal point of your interior decor. It's easy for you to find these sofas in different colours and styles that suit your personal taste. It doesn't matter if you are a fan of vibrant pops of colour or a muted, timeless appearance; the versatility of colour options makes it easy for you to make the L-shaped sofas fit your personal style and tastes. Furthermore, many L-shaped sofas provide customisation ability, enabling you to tailor the design to your preferences. For example, you may customise the height of the legs and arms and other characteristics to match your personal preferences. Moreover, there is a great selection of fabric and upholstery available. For instance, if you prefer a glamorous and upscale aesthetic, you can choose from luxurious materials such as leather and velvet. On the other hand, if you want to create a warm and cosy vibe in your living space, you can choose L-shaped sofas with textured fabrics. This customisation option and a wide variety of selections guarantee that the sofa merges with the entire aesthetic and represents your personal taste. Besides that, you can consider the use of complementary accessories as an excellent way to bring an extra touch of style to your L-shaped sofa. Using accents like throw pillows, blankets, or decorative accents to coordinate with the colour scheme or overall theme of the room can make your L-shaped sofa look more polished and sophisticated.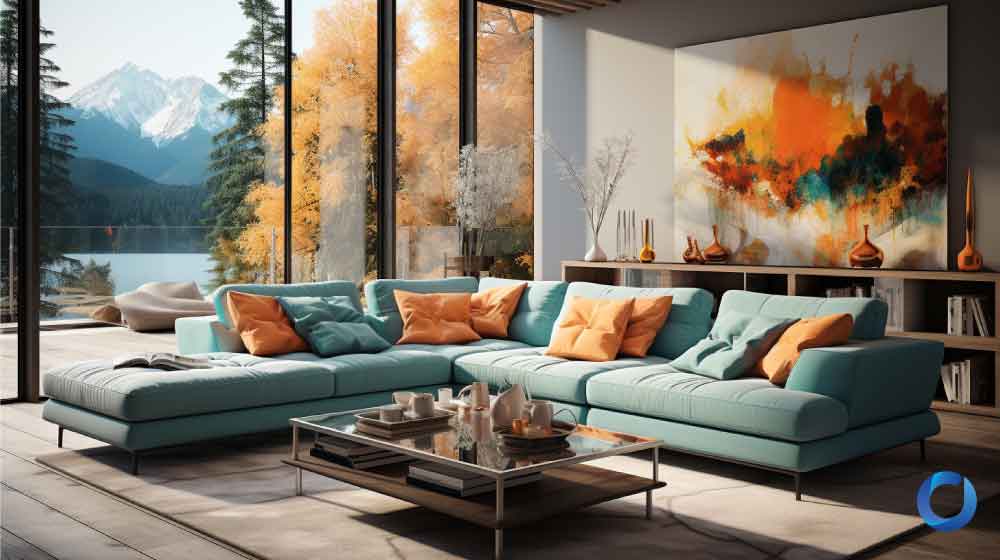 The Take-away
In a world where functionality and aesthetics coexist, one piece of furniture reigns supreme: The L-shaped sofa. It's a game changer for modern living because of its potential to optimise space, establish social interaction, and boost the aesthetics of any setting. By adding an L-shaped sofa into your living room, you may bid farewell to unused nooks and corners, and say hello to a world of comfort and relaxation. The advantages of having an L-shaped sofa are unrivalled, whether you're throwing a party or spending a peaceful night in. Now is the time to elevate your home's decor to new heights, where comfort and design coexist in flawless harmony. Visit Acacia Sofa to choose your perfect L-shaped sofa and explore its charm and enjoy the pinnacle of comfortable and pleasant living.
Looking for quality sofas with creative fabrics and easy maintenance? Find the nearest showroom at acaciasofa.co
If you are searching for the perfect curtain to express your personality at home, find our nearest boutiques at acaciacurtain.co