If you're in the market for a new sofa, an L-shaped design can offer the perfect blend of style and comfort.
Stylish L-Shaped Sofas for Contemporary Living Rooms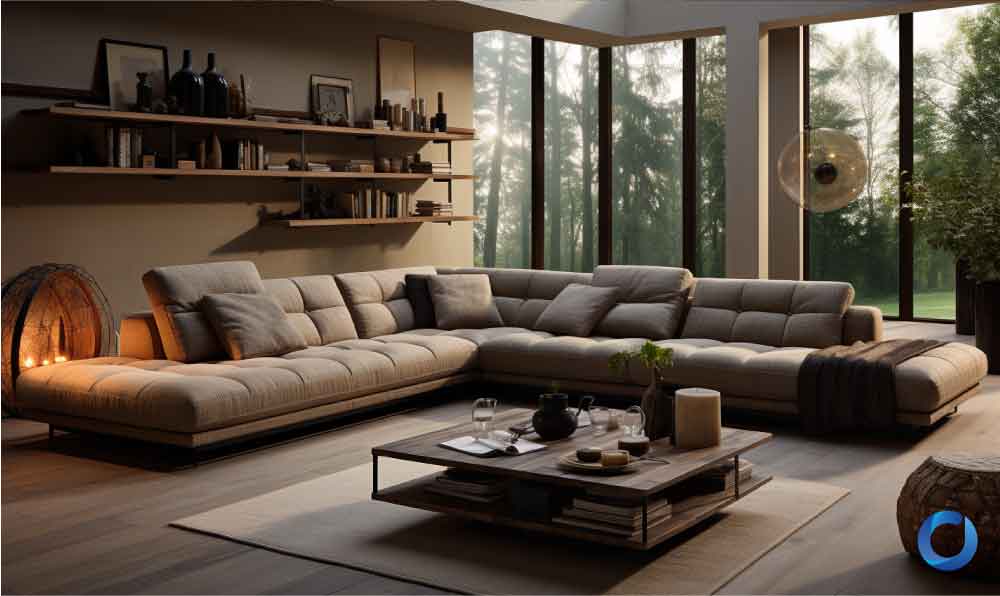 Are you looking for a stylish and functional addition to your contemporary living room? Look no further than the L-shaped sofa!
This sofa is a versatile furniture item, as it gives plenty of seats for you and your guests while at the same time bringing a dash of contemporary flair to your interior space. The unique L-shaped form of the sofa allows it to fit nicely into a corner or act as a room divider.
In this article, we will look at some of the most stylish L-shaped sofas that can be used in contemporary living rooms and the features that set them apart. But before that, we think it will be fitting to introduce you to contemporary interior design.
What Makes up a Contemporary Design?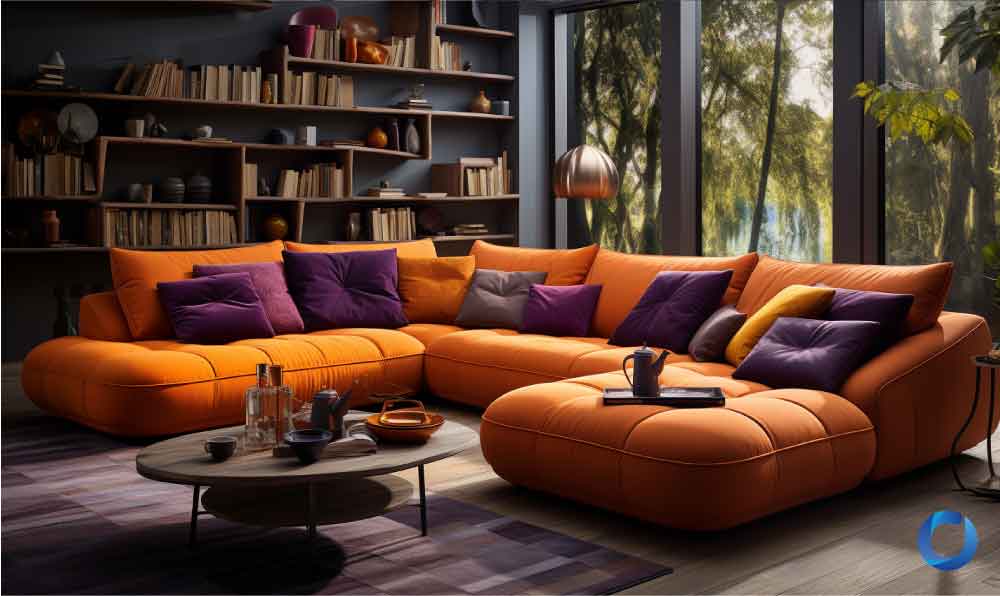 Contemporary design is commonly praised for its minimalistic look, clean lines, and functionality. Interior designers often admire the fact that contemporary design smoothly mixes form and function, resulting in environments that are not only stunning but also functional and pleasant for people to reside in. This design is very flexible and may be tailored to a broad range of lifestyles and needs. Apart from that, it is frequently associated with sustainability as it emphasises ecologically friendly procedures and resources. Interior designers who are committed to eco-friendly design commonly use contemporary styles to create attractive, environmentally friendly settings.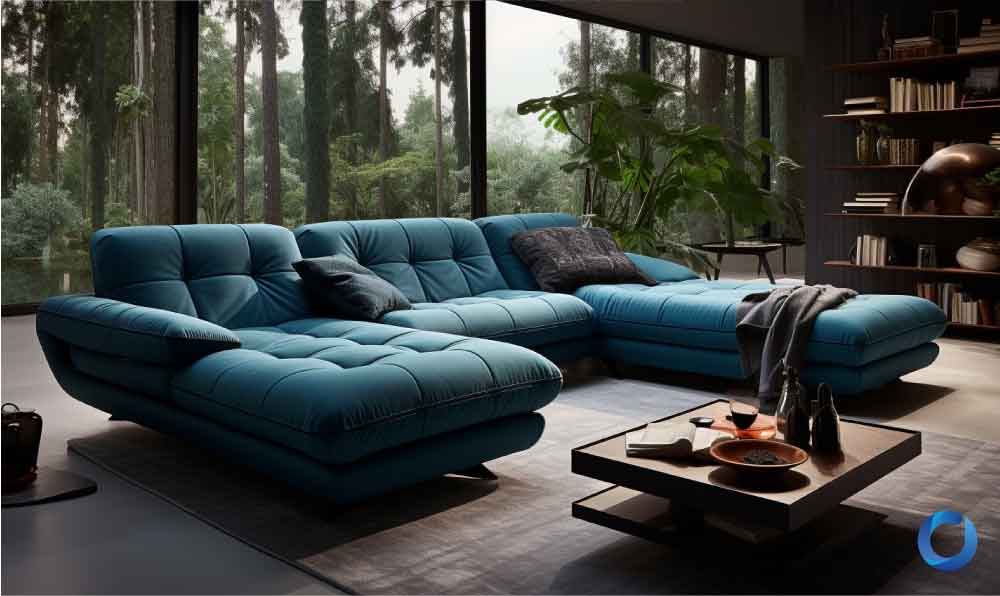 Taylor Apolonio, an interior designer shared,
"As far as furniture, you'll see a lot of solid colour palettes, often neutral and muted tones. If you see upholstered pieces, you'll see very natural materials like linen, silk, jute, or cotton. Many furniture items will show exposed legs, but there are some that will be very chunky and will just sit on the ground."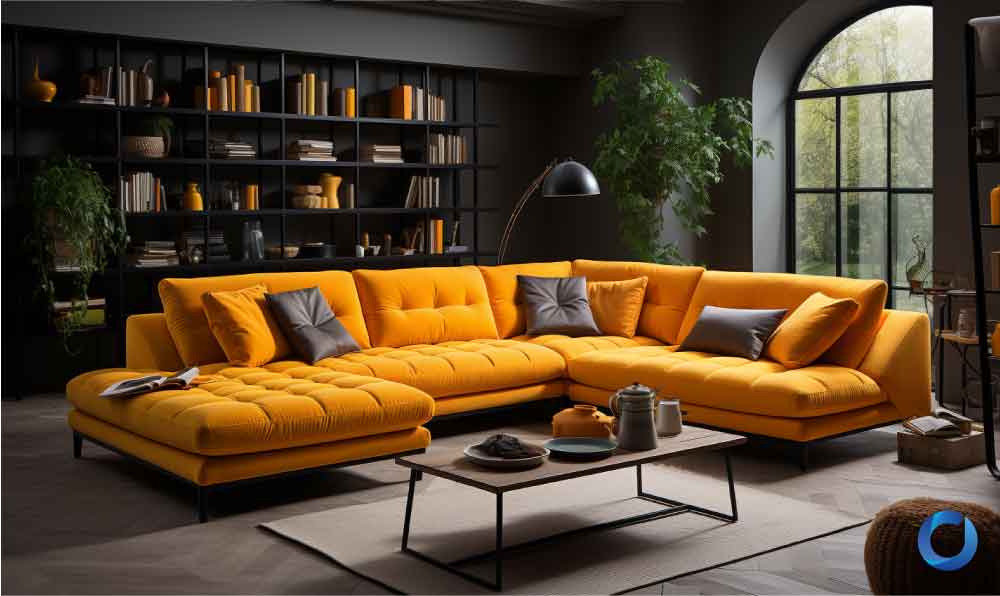 Contemporary furniture is often designed with clean lines and basic designs to produce a sleek and uncluttered appearance. It also frequently uses a neutral colour palette, with white, grey, black, and beige being the most prevalent. This results in an abode that is not only classy but also serene. However, the colour scheme is occasionally accented with lively and vibrant hues which contrast with neutrals. Natural materials that can give an organic feel are often used, like wood, stone, and leather. Metal accents like chrome, steel, or brushed nickel usually adorn the furniture piece, which makes your living room look elegant. Geometric shapes like rectangular, square, and circular designs are popular. These shapes give the living room an impression of order and symmetry. Additionally, multi-functional design aspects, such as storage compartments or convertible seating alternatives, are common in contemporary furniture. This increases the practicality and adaptability of the area. Moreover, contemporary interior design is characterised by a minimalist aesthetic. Uniqueness and individuality are the hallmarks of each piece of furniture.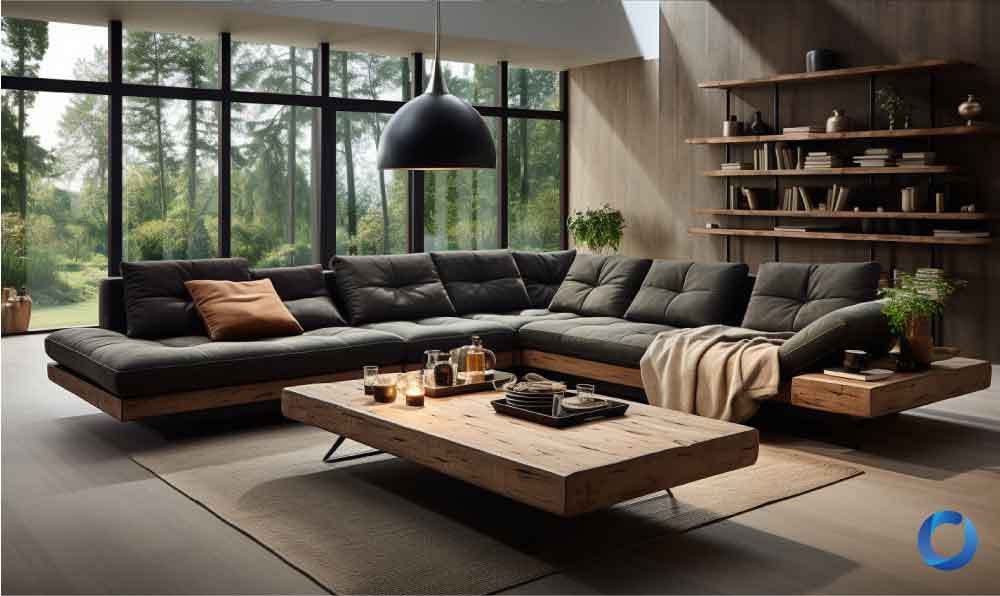 1 – Sleeper sofa for the win
"It's not just a place to sit, it's a place to be alive. And when you're tired, it's a place to sleep, too," – American designer Charles Eames.
A sleeper L-shaped sofa is suitable for contemporary living rooms. It is functional and versatile – consisting of an in-built bed that can be pulled out as a makeshift sleeping area. For those living in tiny studio flats or apartments, this type of sofa is like a gift from heaven! If you have guests frequently staying over at your place, this sofa can become a cosy night-time sleeping space. Its multifunctionality also lies in the fact that it can be a wonderful seating area for yourself and your guests. One excellent tip before investing in a sleeper L-shaped sofa is to make sure that it has a high-quality opening mechanism equipped with a lock-down bar to enable you to close the unit properly and open it hassle-free. Spend time checking the opening mechanism, verifying that there are no loose parts. As this sofa also functions as a bed, it is common to place blankets or sheets on top of it. Therefore, make sure that the edges of the inner mechanism of the sofa are smooth to prevent them from ripping.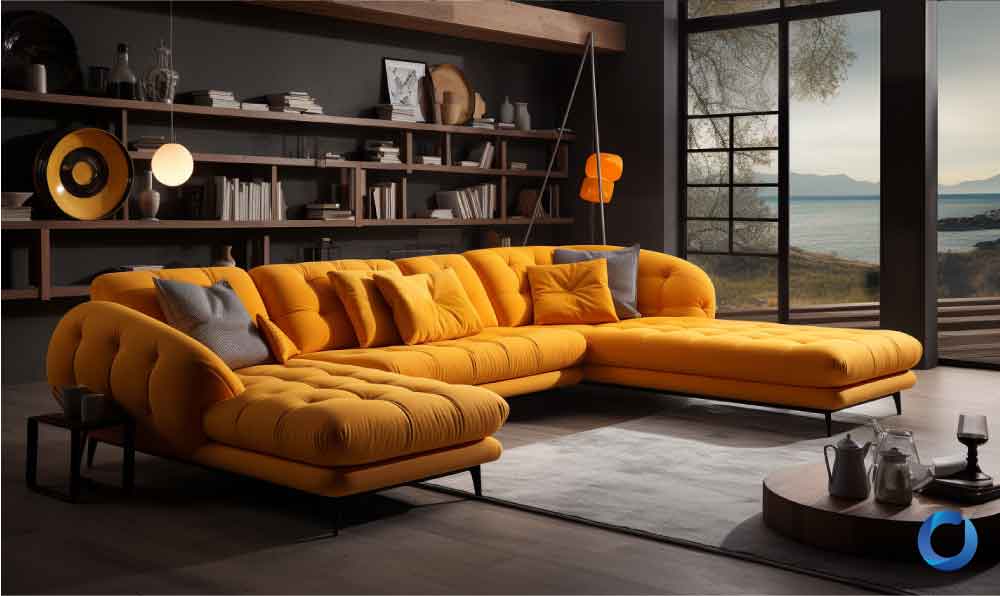 2 – Keep it low
Low back L-shaped sofa is another stylish and contemporary design that provides a classy minimalist look to your living room. This is an L-shaped sofa with a low backrest that reaches only to the middle or lower part of the back, in contrast to the traditional version with a high backrest intended to support the head and neck. This low backrest allows you to stretch out and relax without feeling confined. It has a sleek look and lets light pass over the back of the sofa, making the living room appear warmer and more welcoming. It is also an ideal choice for tiny spaces, as the sofa occupies less vertical space and, therefore, can create an illusion that the room appears larger than its original size. This low back design makes it easy to style this sofa with accent pillows or throws that are aligned with contemporary style.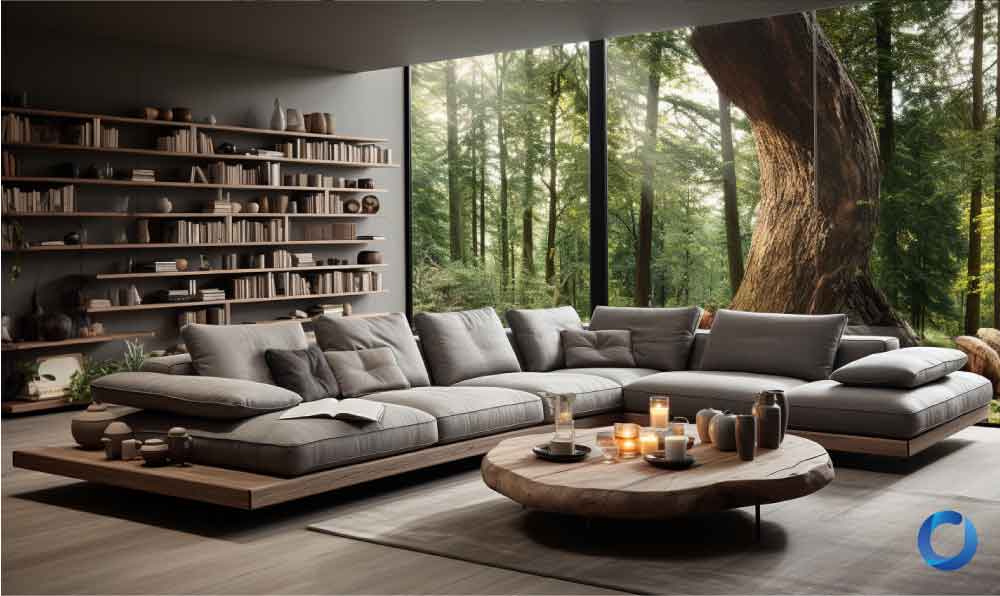 3 – Get them in pieces
The modular L-shaped sofa provides a stylish and customisable seating solution that is great for a contemporary living room. It is well-known for its functionality and practicality like what had been explained by interior designer Kelly Hoppen,
"Modular L-shaped sofas offer a versatile and customisable seating solution that is perfect for modern living. Their modular design allows them to adapt to any space and situation, making them a practical and functional choice for any home."
This sofa consists of movable parts known as modules. With this modular design, you are free to arrange the pieces in a way that matches the layout of your space and your preferences. For example, choosing a two-piece modular sofa with a chaise that can be positioned on either side can help you make the most out of your smaller space. In contrast, if you have a larger living room, an additional set of pieces can be added to your seating area to create a larger seating space. This type of L-shaped sofa is an invaluable investment since you can modify the configuration of your sofa as you move from one house to another. You have the option of arranging the sofa into a two-seater with a right chaise, a two-seater with a left chaise, or a three-seater sofa using similar set of modules.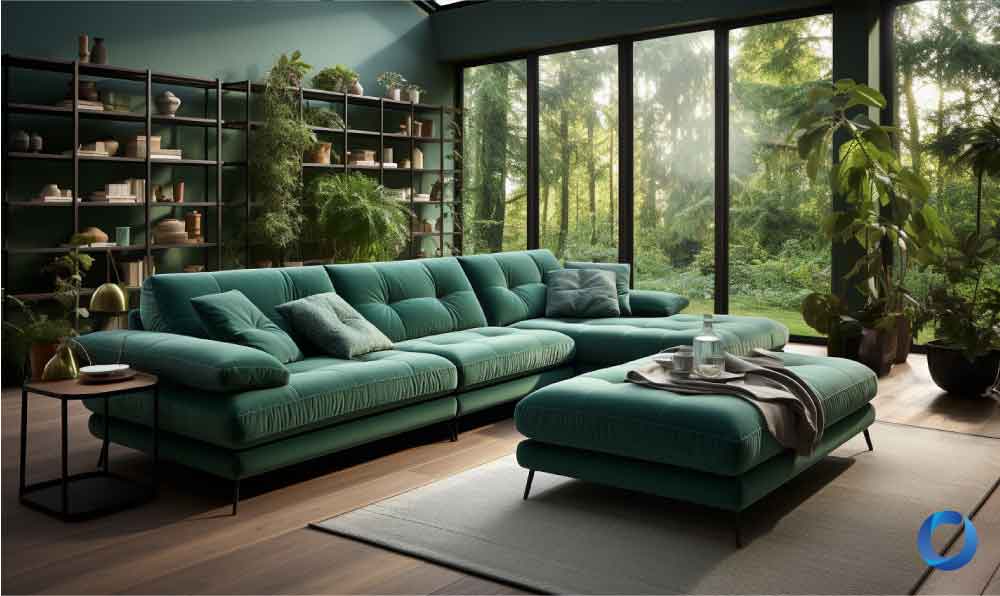 4 – Good for your posture
"Why would you design something if it didn't improve the human condition?"
– American industrial designer Niels Diffrient
A recliner L-shaped sofa may bring an element of elegance and sophistication to your contemporary living room. This type of L-shaped sofa is ergonomic friendly – the recliner function enables you to recline the backrest and footrest, creating a comfortable atmosphere while relaxing or watching television. The recliner is designed to fit the natural postures of the body which increases the comfort level of the sofa. This is especially crucial for those who spend a great deal of time sitting in front of a computer, as prolonged sitting can substantially increase the risk of musculoskeletal disorders such as neck pain and back pain. These issues can be alleviated by reclining L-shaped sofas, which can reduce joint and spine pressure. Moreover, elevating your legs above your heart can promote better circulation.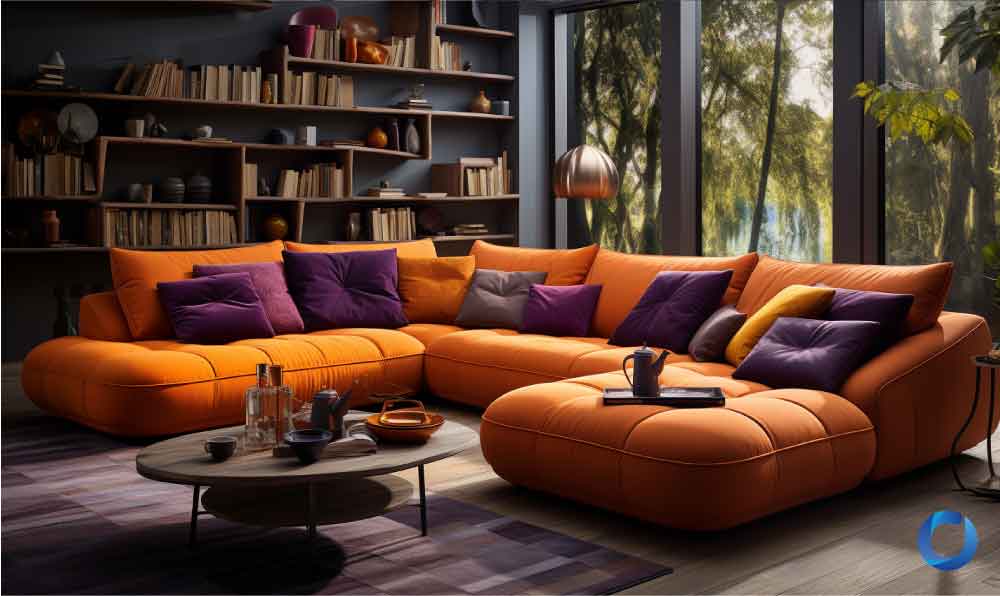 5 – They are extra! (but in a good way)
An L-shaped sofa with built-in storage is a stylish addition to your contemporary living room. This is designed with practicality in mind – the space in your living room can be maximised as your things can be stored in the space underneath the cushions or in the armrests. This built-in storage can also help to maintain the neatness of your living room as you can store blankets, books, or pillows.
Some L-shaped sofas include one or more USB ports incorporated into the design that may be used to charge electronic gadgets such as your smartphone or tablet. The sides of the sofa or armrests are common locations for these ports – very convenient for those who want to use their gadgets while sitting. This makes it easy for you to stay close to your devices while they charge without having to look for a wall outlet or a charging station. The design adhered to the contemporary design philosophy that integrates form and function while creating an aesthetic and functional space.
Elizabeth Aaron, an interior designer from Los Angeles, explains the advantages of built-in USB ports in her home theatre design,


"These are helpful because the lights, draperies, and television are all controlled on an iPad. An added benefit is that there are no dangling cables stretching across the room to the nearest outlet."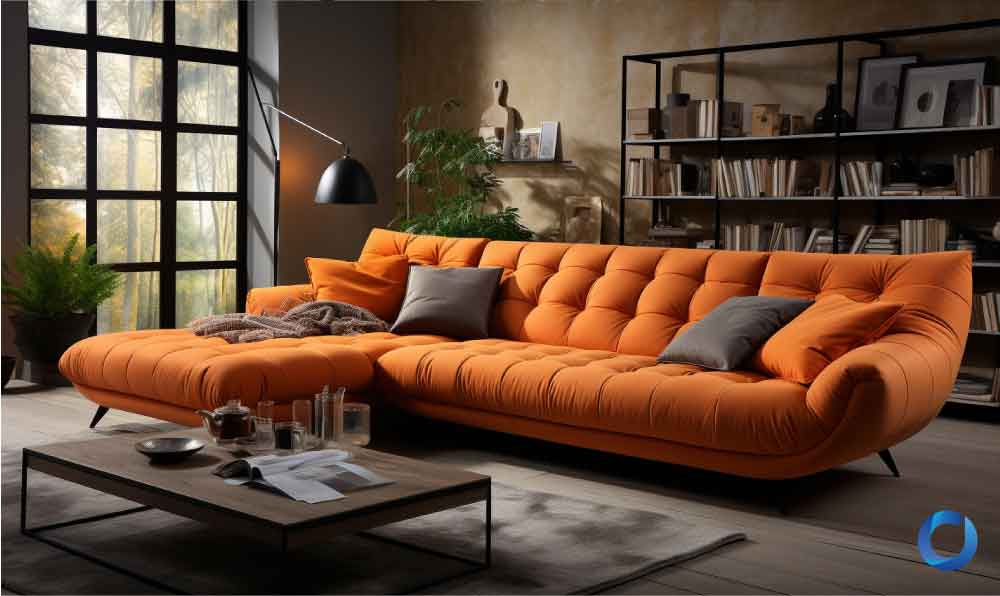 6 – More seating without breaking the bank
"Chaise lounges are one of my favourite pieces of furniture to work with. They have an inherent sense of luxury and relaxation that makes them perfect for creating a serene and inviting atmosphere in any space. Plus, they are incredibly versatile and can be used in so many different ways – as a statement piece, a comfortable reading spot, or a place to curl up and watch TV." – Kelly Wearstler, interior designer.
An L-shaped sofa with chaise lounges consists of a section that is comfortable enough to support outstretched legs for a relaxing experience. It offers great value for your money, as it combines multiple seating options into one piece of furniture. This can be a cost-effective option for those looking to maximise their seating options without breaking the bank. Apart from that, it could be useful for guests who otherwise wouldn't fit on the couch to use the chaise section as an emergency chair.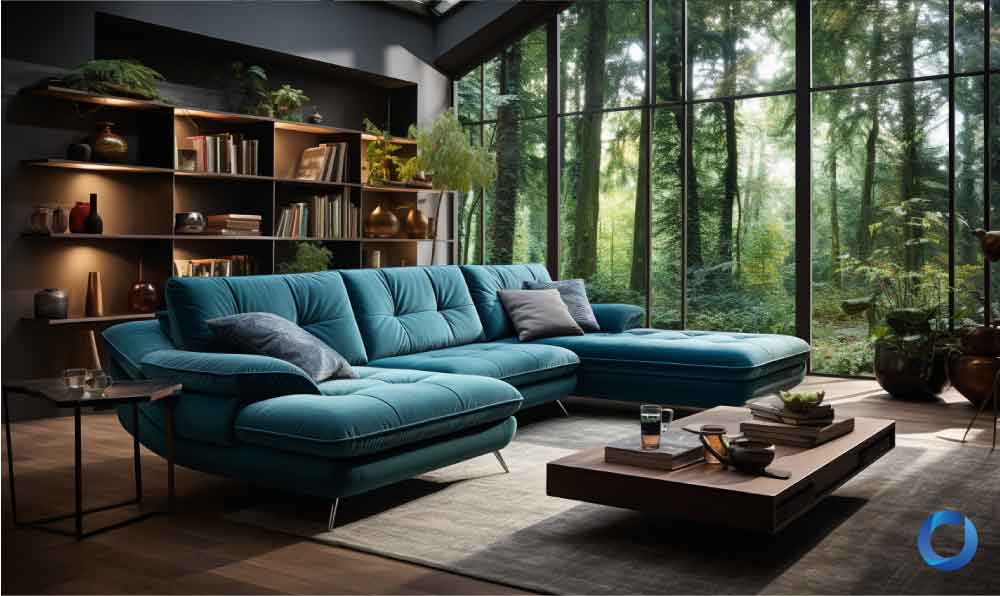 7 – Great curves
A curved L-shaped sofa is a one-of-a-kind and fashionable contemporary furniture item for your living room. It has a rounded corner that forms a soft curve, compared to the straight edges in its traditional version. The aesthetic appeal of this sofa lies in the way that it can generate a sense of flow and movement in a space, which makes it a fantastic option for anyone looking to add a dynamic and aesthetically pleasing aspect to their interior. The curved shape offers a comfortable, intimate area to relax and socialise with family and friends. Furthermore, the entire comfort level of the sofa is increased as some curved L-shaped sofas include soft upholstery materials and cosy cushions as part of their accessories.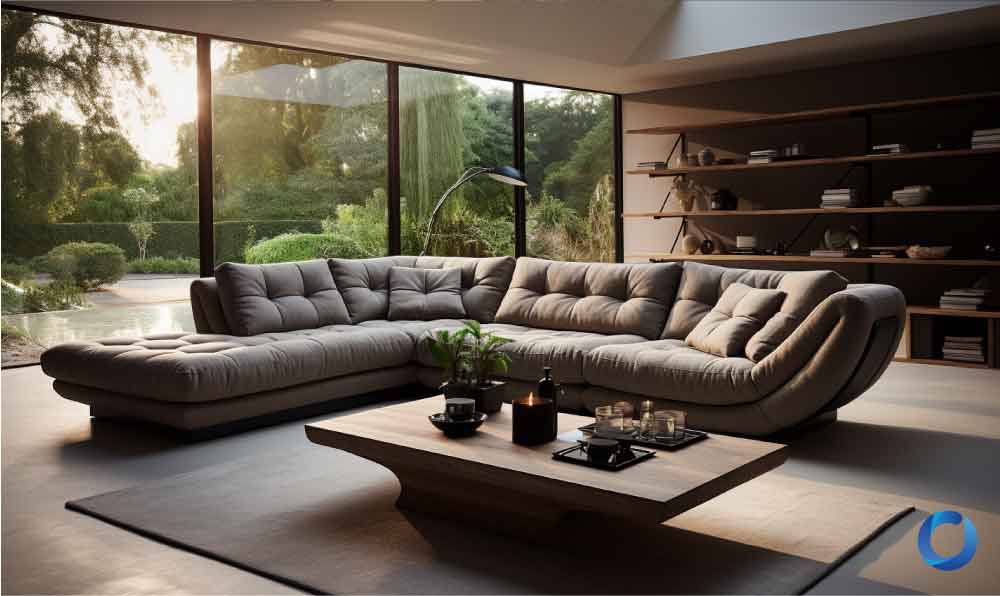 8 – No legs are hip!
You can make your living room appears stylish by decorating it with an L-shaped sofa that directly touches the floor without any visible legs or supports. Rather than having legs, this sofa has a solid foundation that often stretches from one end to the other, supporting and giving it stability. It is also more stable than the traditional sofa with legs, as it will not wobble or shift on uneven ground. This is a wonderful option if you want to incorporate a contemporary design aesthetic into your space, as the absence of legs provides additional clearance under the sofa and makes the space appear larger. This feature also makes cleaning more convenient as the debris or dust is not trapped by the legs or crevices.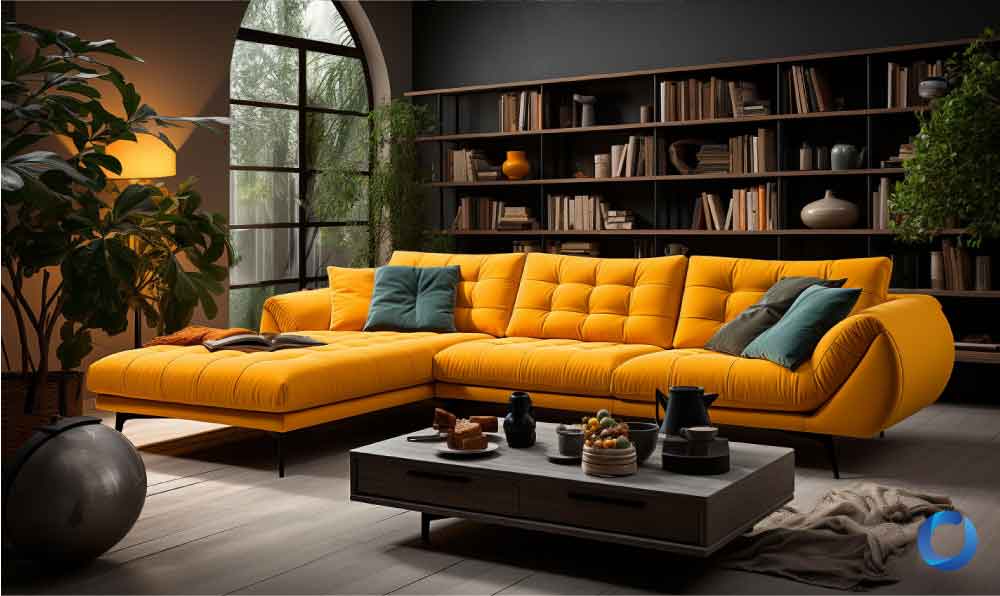 A stylish L-shaped sofa is ideal for accommodating a larger group of people and injecting a dose of contemporary style into your living room. It offers both versatility and comfort, with multiple types that can suit different preferences. Do visit Acacia Fabrics for many options of stylish L-shaped sofas!
Looking for quality sofas with creative fabrics and easy maintenance? Find the nearest showroom at acaciasofa.co
If you are searching for the perfect curtain to express your personality at home, find our nearest boutiques at acaciacurtain.co