Luxury curtains and sofas at Rwanda
Grand Curtains that are Intimately Immersed in Nature in Unforgettable One&Only
Rwanda, landlocked in east-central Africa, known as the land of a thousand hills with one of the most magnificent scenery in the world. It is so blessed with extraordinary wildlife living throughout its volcanoes, montane rainforest and sweeping plains. At One&Only Gorilla's Nest,
Rwanda
any person can truly getaway in comfort and awe of a spirit filled with thrill.
At One&Only Gorilla's Nest, Rwanda, all villas and suite are spacious and surrounded by a generous landscape of diverse wildlife that includes mountain gorillas, golden monkeys and over 300 bird species at full front-row view. The Parker Company, Dubai is utmost privileged to be part of the interior furnishing project of this grandeur.
At the generous expanse of this resort made available to The Parker Company, they were able to sprout diligent interior design ideas and select quality artistic fabrics for furniture, an impassioned plea emerged for a return to nature, to living spaces, villas with large bedrooms and living rooms, furnished balconies, terraces and dining.
The fabrics used to furnish the entire resort is of equal status in quality, safety and modernism as Gorilla's Nest itself- a fabric name that is no stranger in the hospitality industry; FibreGuard, FR-One, Bru and Fabric Library. FibreGuard is intentionally selected because of the fabric's DNA for being stain-free and so easy to maintain and clean. Valid attention to food and beverages stains, soil or ink blemishes on sofas and chairs are attended with welcoming care. Similarly, FR-One is used due to the fabric's inherent characteristics of fire-retardant. The anxiety of accidental cigarette butt or cigar stub in causing a burn on sofas can all go away. All of which are very important concerns in ensuring privileged guests enjoy their moments in the resort with a peace of mind and in complete uninterrupted luxe comfort. Bru and Fabric Library collections are deliberately used not only for the reason of its beautiful patterns, distinguish textures, and vibrant colours but also because the fabrics are Oekotex-100 certified and consistently laboratory tested to surpass the ISO standard. This ensures that while privileged guests immersed in nature they too can breathe easy in knowing that there are non-harmful, non-toxic substances being released into the air by the colour dyes used in fabrics and processes the fabrics have undergone.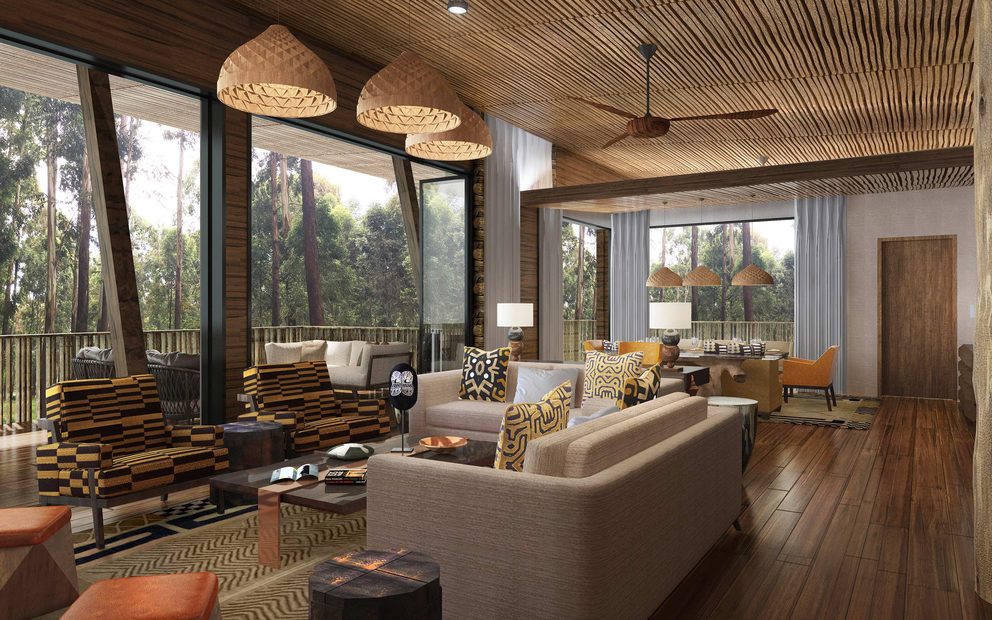 Every soft furnishing in the resort- sofas, dining chairs, lounge chairs, armchairs, curtain, drapes, sheer, are created and curated to persistently complement the unique environment of the resort. More importantly, the quality and softness of the fabrics when it comes to contact to your skin is aimed to bring you added luxe comfort. On top of that, it is aimed to create the right amount of ambience and motivation for you to want to capture your moments in luxe comfort through your camera.